Comprehensive Leadership for Youth Coaches
The Leaders' Summit is an integral part of the NICA model for interscholastic mountain bike programs. They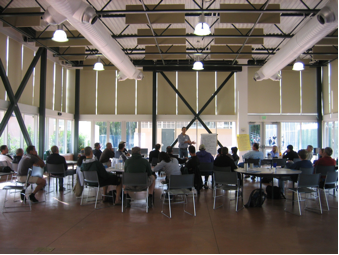 bring together coaches — both new and experienced — to develop skills and knowledge, share strategies, and build community. The conferences promote a holistic approach to coaching that creates an environment in which young people can grow and thrive. They also provide opportunities for participants to learn all about the league structures and processes, how to start a mountain bike team, how to work with their schools, issues related to liability, and the unique intricacies of working with middle and high school cyclists.
Attending a NICA Leaders' Summit is required for a Level 3 license.
Upcoming Leaders' Summits
NICA Leaders' Summits are hosted by each NICA League on an annual basis. In addition, NICA is working to bring additional Leaders' Summits to regions that do not yet have established NICA programs.
For schedules and access information to current Online Leaders' Summits click here.
For a full list of upcoming Leaders' Summit go to the NICA Calendar. For any questions regarding a NICA Leaders' Summit, please email Coach Licensing.
Saturday: Leadership and Coaching Seminars
The first day of the summit consists of classroom seminars which cover the nuts and bolts of working with middle and high school student athletes in the context of a NICA mountain bike club. Saturday's seminars cover basic knowledge all NICA coaches should be aware of and incorporate into their duties. The topics covered will vary, but will always include Risk Management and Insurance Overview, required topics for all NICA Coaches License levels. A list of possible topics is listed below.
Topic:
How to Start and Manage a High School Mountain Bike Team
Fundraising, Securing and Sustaining Sponsors
Engaging and Motivating Adolescents
Recruiting, Coaching and Retaining Girls
Risk Management and Insurance Overview
NICA Coaches License Information
Race Day: Structure, Support, Success
Creating a Strong Team/Parent Community
Getting to "Yes" with School Administrator
Managing Riders at the Top
Coaching Core Mental Skill
Cycling Training for Teens
Mechanic Skills Refresher
NICA On-the-Bike Skills
Sunday: NICA On-the-Bike Skills Training
In this clinic, coaches will learn the progressive steps needed to teach anyone (even other coaches) both basic and advanced mountain biking skills. You will also learn about experiential teaching techniques, how to accommodate different learning styles, and how to create a positive learning environment for young riders. The majority of this clinic will be held outdoors, so please bring your bike and appropriate riding and safety gear for the weather.