Amanda Carey, President
Amanda has been involved with NICA since 2015 when she started her local Teton Valley Composite Team as part of the Idaho League. In 2017 Amanda joined the NICA National Team bringing with her a deep passion and commitment to making mountain biking accessible to riders of all ages and abilities. Amanda has served as a Coach Licensing Manager and GRiT Program Manager, and has served as Vice President of Programs since 2019. She has been an Idaho League Coach Supporter, and a Level 3 Coach for 7 years, 5 of which she served as the Team Director and Head Coach of Teton Valley Composite. Amanda has a strong focus on NICA's core mission, vision and values and on servicing NICA's Leagues to get even #MoreKidsOnBikes.
Amanda has a B.A. in Political Science from Colorado College and a M.S. in Sports Psychology from Capella University. Prior to her time at NICA, Amanda held multiple positions in non-profit organizations including time as both a development director and executive director with different cycling and trail advocacy organizations. Amanda also brings with her many years as a professional mountain bike and cyclocross racer having won the Breck Epic, Trans-Sylvania Epic and Iceman Cometh races multiple times. Amanda lives with her husband, Nate, in Victor, Idaho where they love to mountain bike, ski, and adventure out in the mountains.
Programs
Chris Spencer, Director, Risk Management & Training
Chris is a proud NorCal League Alumni. As a high school Freshman he experienced the adventure of mountain biking as a mechanic then racer on San Francisco's Roaring Mouse Cycles Team. After some early racing successes, he started working with the Whole Athlete on a performance training program that helped him achieve some NORBA national podiums. While studying at UC Santa Cruz, he coached for a local team and volunteered for league events. Since 2009, he has worked for the NorCal League and then the NICA national office. Chris has had many roles at NICA with his primary contributions being the development and refinement of the risk management and training programs. The focus of his post-high school education has been economics, project management, counseling, program development, and risk management. Chris brings a wide range of experience including work as a bike mechanic, deckhand-engineer on tug boats, aviation and maritime insurance adjustor, comedian, residential advisor, outside salesman, and marketing representative. Chris enjoys many outdoor sports and is STOKED to be a coach on the Berkeley High School Cycling Team.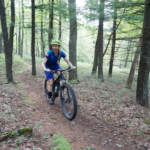 Melissa Davies, Adventure Coordinator
Melissa is a strong believer in adventure education and it's power of positive transformation. Her journey began as a director of an outdoor experiential program taking eighth grade students from her hometown Marshall, MI camping, hiking, and exploring in Alaska.  She went on to get her B.S. in Biology and Outdoor Education with a Secondary Education Teaching Certificate from Central Michigan University. Combining all her interests, she found work as a high school biology teacher and adventure educator in Seattle WA, where she was also a successful cross country and track coach. During her time in Seattle she worked throughout the summer months as an outdoor instructor for a women run non-profit dedicated to the positive development of girls.
In addition to her role with NICA, Melissa is also the Assistant Director of the PA League.  Where she works to get #morekidsonbikes.
To fuel her soul Melissa enjoys mountain biking, trail running, triathlons, adventure racing, hiking, rock climbing, and road riding...as her husband says, "she's a fun hawg".  She currently rolls with her husband Josh in Cenn Penn, and spends as much time as possible adventuring with her two children Miles and Althea.
Bonnie Kabel, Program Coordinator
Growing up Bonnie used her bike for transportation and enjoyment.  While in college she rode two months through Europe with friends. It wasn't until her daughter joined the newly formed SRV Mtb Club at her high school that she was introduced to mountain biking. Bonnie started as team sweep and over ten years later is still an active coach.  She joined NICA as the Program Coordinator and enjoys being able to help with NICA's mission. Knowing the positive impact mountain biking had on her daughter, Bonnie continually wants other families to have that same experience.  
Phil Waidner, 
Program Manager Camps and Teen Trail Corps 
Phil Waidner's mountain bike love started early growing up in Indiana but blossomed into an obsession during his college years in Asheville, NC. Considering his mountain bike roots to always be Pisgah, Phil has traveled the world seeking out adventures on the bike. Combining his experience as a BICP Instructor Trainer, AMGA climbing instructor and PSIA ski instructor, Phil has developed a wide variety of co-ed youth programs blending traditional outdoor education philosophies with action sports.
Merging his interests in outdoor education and mountain biking, Phil developed MTB programs for a variety of summer camps and outdoor education programs across the country. He then spent time guiding and instructing in China, Bolivia and Colorado before landing in WV. Here he developed mountain bike, BMX, skateboard, and ATV programs at the Summit Bechtel Reserve, a large national facility for the Boy Scouts of America.
When he's not mountain biking, he can often be found exploring on his dirt bike, rock climbing, hiking, or just relaxing in the nearest swimming hole.
Jerel Wilson, Senior Training Manager
Jerel grew up down the street from a local bike shop in the suburbs of Chicago. She spent as much time there as the owner would allow before kicking her out. After college, Jerel did some Ironmans and fell in love with competitive cycling, quickly switching over to road and cyclocross. She enjoys both the physical and mental challenge of bike racing and is convinced her life is richer because of her experiences as a cyclist and the friendships she has gained (both teammates and competitors). Jerel is passionate about introducing cycling to youth and loves to see kids get their parents hooked on cycling. Riding bikes recreationally is a favorite family activity in her household. Jerel joins NICA with a background in social work and education and holds master's degrees in both social work and educational leadership. She has spent the majority of her career in public education advocating for alternatives to expulsion for gang involved students and students with disabilities.
Mike McGarry, Senior Coach Licensing Manager
Mike McGarry
of Madison Wisconsin is our new Coach Licensing Manager. Many of you already know Mike as his unending positivity and well-known "power clap" has been inspiring other NICA coaches and Coach Supporters for many years. Mike has a post-bacc in Exceptional Education and has been a Coach Supporter and head coach of a 90+ member team in the Wisconsin League since 2013. Mike is also a talented and experienced educator, having been the special education department chair at Madison West High School since 2012. Mike adds to the national staff an existing wealth of NICA coaching and leadership experience as well as years of curriculum development experience. Mike will play a key role in ensuring NICA national continues to serve the needs of our volunteer coaches with the curriculum and tools needed to positively impact their student-athletes, teams and communities. 

Philip Hynes, Coach License Manager; Coach, Team Development
Phil found his love for riding bikes while establishing a paper route in the 6th grade where he rode his bike 364 days a year for the next 6 years. After a career as an Infantry Officer in the United States Marine Corps, Phil relocated to Marin County, CA where he was introduced to Mountain, Road and Cyclocross racing with an Elite Masters Cycling Team. During his professional career he has held progressive Executive Leadership roles in the Healthcare and Fintech Industries with an emphasis on technology and rapid growth. 
Phil was the founding Head Coach of the Truckee MTB Team during the inaugural year of the NICA Nevada League (2016) and held the position of League Coach Supporter for 3 years. In 2020, he took over as the League Director for the Nevada League, Northern Conference. 
Phil holds an Economics degree from the University of Illinois and resides in Truckee, CA with his 2 daughters. When not at work or with his daughters you can find Phil on his bikes, snowboards or surfboards. 

Emily Green, GRiT Manager
Emily has a lifelong passion for cycling and outdoor adventure, and loves nothing more than to help others challenge themselves and get outside on their own adventures. 
She started her professional journey in outdoor environmental education in Maryland. She later moved to the Midwest and spent almost two decades in nonprofit program development, management and volunteer leader training. 
After having two boys of her own (and having to find new ways to stay healthy and fit as a mom), Emily co-founded Fit Moms for Life and cultivated 105 community groups of moms nationwide, who supported each other in their health and fitness journeys. She coached women locally and online, and saw the transformative power of getting people outside their comfort zone. She carried this into her personal life, starting a triathlon group for women new to the sport and recruiting other moms to join her in getting kids #outside365. 
She and her family live in Madison, WI, and spend their free time mountain biking, road cycling, paddling, skiing, hiking and exploring. She's an avid triathlete, competitive sailor, and loves getting kids (including her son) hooked on mountain biking as a Level 2 coach for her local NICA team. She's beyond excited to help more female athletes and coaches experience the transformative power of mountain biking!
---
Field Operations
Chris Mileski, VP Field Operations
Chris Mileski joined NICA National after founding the Missouri Interscholastic Cycling League in 2018. A veteran of the United States Marine Corps, Chris graduated from the University of Arizona in 1997 and went on to a diverse career in the health, wellness, and sports performance industry. He's spent much of his career working with a myriad of professional and Olympic athletes, spent time with IMG on the Women's Tennis Association Tour, worked with USA Track & Field, and finally owned and operated an elite training center of his own to continue his focus on sports performance, physical therapy and endurance coaching.
In 2009, Chris began a six-year tenure as Program Director and Head Coach of the nationally ranked, division I, cycling team at Lindenwood University. After winning 7 national championships at the school, Chris was elected to the Lindenwood Sports Hall of Fame in 2020. Chris continues to coach athletes worldwide, including SoCal NICA alum and 5-time collegiate national champion Hannah Rae Finchamp.
Chris is a USA Cycling Level 1 Coach, USA Track & Field Sprints/Hurdles Coach, NSCA Certified Strength & Conditioning Specialist, BICP Level I Instructor and a NICA Level 2 Coach.
Chris currently resides in the St. Louis metropolitan area. In his spare time, he loves riding bikes with his wife Kerri and son Kolce, and spending time with their two doods, Ben and Nash.
Finance and Administration
Lauren Haughey, VP Finance & Administration
Lauren began her passion for the outdoors as a young person, through a combination of influencing factors - backpacking trips with her father and volunteering with a political activist mother. The result of those early years led to a love of the outdoors and an ongoing urge to advocate for the care and access to open space.
Lauren was instrumental in launching NICA in 2009, implementing and scaling the growth of the financial, human resource & operational systems of the organization into what it is today. She's active in local & state advocacy - currently serving as the VP of the Bicycle Trails Council East Bay (BTCEB) and the California Mountain Bike Coalition (CAMTB) and up until 2020, the East Bay Bike Coalition (BEB). She continues to Coach with the NorCal League's Oakland Composite Youth MTB Team – of which both her kids participated on; volunteers as an election-worker for Alameda County, and is an active participant and volunteer in local park and city initiatives. She spends her free time mountain biking, trail running, hiking with her golden retrievers, and road-tripping with her husband to explore new places to mountain bike.
Lauren currently lives in Oakland, California along with her husband Morgan and has two college aged kids. She holds Bachelors degrees in Russian History and Accounting in addition to a Masters of Public Accounting.
Kelly Curry, Director of Human Resources
After coaching and managing her children's sports teams over many years, Kelly saw the power of sports, exercise, and being part of a team on the overall well being and psyche of a child. With her BA in Child Development and 30 years of management experience, Kelly values the opportunity to combine her two passions. Growing up in the East Bay, and eventually moving to the Sacramento area, has afforded Kelly the ability to hike and run (slowly) in some of the most beautiful terrain anywhere. She understands that the benefits of sports, exercise, and being part of a team (be it sports, family, friends, or work) is a vital part of health and personal growth.
Julia Lawrence, Project Manager II
(Registration, Administration, Database & IT)
As the youngest of 11 children, Julia spent many summers camping in the Sierra Nevada mountains where she developed a passion for the outdoors and a tolerance for freezing alpine water. An avid hiker, runner, sailor, and mother of four, Julia discovered the sport of mountain biking in her 30s and came to love the physical, mental, and social benefits it had to offer. Her relationship with the sport continued to grow when her daughters joined their club team at San Ramon Valley High School. Julia spent many years as an Assistant Coach at SRV and this eventually led her to employment at the National Interscholastic Cycling Association in 2012. Her favorite part of her job is the interaction with the coaches, parents and students around the country. She is continually reminded what a positive impact mountain biking has had on her own children, as well as the students in her community and beyond.
Sara Marks, Senior Accountant
Sara spent much of her childhood riding bikes, was a member of the Cal Poly San Luis Obispo Wheelman, and one of her favorite activities is exploring the hills, either on foot or by bike. She played college soccer and in the W-League and WPSL semi-pro soccer leagues for the San Diego SeaLions and Albuquerque Crush. Sara received a B.S. in Business Administration (Accounting Concentration) from Cal Poly SLO. She was a stay-at-home mom for 15 years and during that time she volunteered with several non-profit organizations, coached youth soccer teams, and was heavily involved in local schools. She co-instructs "Endangered Australia: Wildlife and Culture", a Saint Mary's College of California Jan Term class that spends a month in Australia every year. Sara, her husband, and their two children lived in Australia for two years and consider Australia their second home. Her husband and son are members of the San Ramon Valley MTB Club and she is grateful to be a member of the NICA Finance Team.
Nargis Solis, Data Analyst
Two time Ironman finisher and long time triathlete, Nargis Solis started her athletic endeavors in high school as a runner and then continued into rowing. Never having considered herself as a swimmer, Nargis was encouraged by a friend (also not a swimmer) to register for her first olympic distance triathlon. She learned to swim and completed her first triathlon in 2001; the start of a longtime passion with the sport. Her last athletic achievement was The Tour of the California Alps (aka Death Ride). Having recently coached a small team of charity runners for the 2014 and 2015 Boston Marathons while simultaneously keeping up with her 3-year old daughter, Nargis is passionate about getting kids outside running and cycling. Nargis has a BA in Applied Mathematics from UC Berkeley.
Sarah Thomson, Project Manager I
(Registration and Database Management)
Sarah is a Bay Area native, growing up in Menlo Park and attending UC Santa Cruz where she earned a degree in Marine Biology. She has been a competitive fencer for over 15 years and has worked with fencing clubs and and leagues for over 10 years. Sarah is excited to join NICA and bring her extensive experience with fencing tournaments and registration to her new role here. In her spare time she likes to read, in particular murder mysteries.
---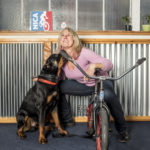 Kim Wik, Accountant
Kim has always liked riding bikes but about 8 years ago a chronic running injury got her back on the bike full time. She started riding with a local group to improve on her riding and within a year she started racing in the Northern California/Nevada Cycling Association. Now after 7 years of racing she is still going strong. She is the reigning California State TT Masters 45-49 Champion for the last 5 yrs and has competed in Masters Nationals the last 4 yrs. Kim has found her dream job at NICA. When she isn't working or riding she likes to spend time baking for the NICA staff (keeping them happy is important) and spending time with family/friends. Life is good and she is enjoying her ride to the fullest!
Sarah Millar, Accountant
Sarah is an avid cyclist, who now tries to keep up with her two daughters, both who race in the Montana Interscholastic Cycling League. She is a founding member of the league, and spends most of her free time coaching the local interscholastic team or out riding the many trails that are right outside their back door in Missoula. She and her husband also started their own local business, The Dram Shop. Sarah comes to NICA with experience in education, non-profit management and business accounting, and also has a passion for providing opportunities for more kids to get outside and grow the sport of mountain biking. 
Kim Lockett, Accounting Manager
Kim is lucky to call Colorado home and feels fortunate to live in a state that offers so many recreational choices. Whether it is hiking, skiing or mountain biking, Kim and her family take advantage of Colorado's great outdoors almost everyday. Kim was first introduced to NICA when her son joined his local NICA Colorado team and experienced first hand the impact that a bicycle can make in a child's life. Although her son has moved on to collegiate cycling, her involvement and passion for high school mountain biking continues. After many years of working in the corporate world for startups, Kim is excited to be a part of NICA's accounting team and to share her extensive Quickbooks knowledge and experience with the team. She has a BS from the University of Colorado School of Business. 
---
Development
Kristine Urrutia, VP of Development and Diversity, Equity and Inclusion
As a long-time runner and roadie, mountain biking was not on Kristine's bucket list- until her children decided it was on theirs! In years past when her then small children would ride mountain bikes, she would trail run behind them. In 2015 her husband and three children decided to give her a mountain bike for Mother's Day. Kristine found both a new freedom and community that came along with mountain biking. In 2016 she took her new passion to the next level and joined the Management Team of NICA's emergent North Carolina Interscholastic Cycling League.
Kristine has nearly 20 years of leadership experience in global, community and foundation development with a particular interest in social entrepreneurship. She profoundly believes that issues of the environment are inextricably linked with matters of social justice. Joining the NICA team gives her the opportunity to merge her passions for biking and getting youth outside and into nature. At the heart of all Kristine's efforts is a relentless drive to lead, seek, design, or create ways for people to collaborate with purpose. Kristine has a Bachelor of Arts degree in English and Political Science from Bowling Green State University and is a Certified Teacher Naturalist.
Eric Breit, Director of Development
Eric discovered mountain biking with his daughters when their school, Central Park School for Children, joined NICA's North Carolina league in 2016. He loved helping coach the team and saw first hand the impact that participation had on the lives of the student athletes. He is now helping to form a new composite team to provide access to the sport for more kids in Durham. Eric has many years of experience in community development, working in management and fundraising positions at nonprofit organizations large and small, and he looks forward to that experience helping to continue to expand NICA's reach and impact. When not working, Eric enjoys going on long-distance bike rides with his daughters, playing pick-up soccer, and volunteering with a local financial empowerment and affordable housing advocacy organization. Eric has his Masters in City and Regional Planning from the University of North Carolina at Chapel Hill.
Nic Sims, Development Manager
After being introduced to cycling by my father the fun and games began and the rest is history. I raced mountain bikes and wrenched for several road and mountain bike teams. In 1998 we moved to the US from the UK to work for Specialized, while there I enjoyed being the "Face of Specialized" at multiple Tours De France as well as other cycling classics. I left Specialized after 23 years and moved on to Alpinestars to work in the motorsports industry; this let me get a behind-the-scenes view of motorsports including Formula 1, Moto GP and Supercross. In 2013 I returned to the cycling industry to work for SCOTT Sport. Throughout my life I have had the distinct pleasure of turning hobbies into jobs. I have worked with some great companies that I can say have all made a difference in their sports and now with NICA the trend continues.
Angela Holt,
Senior Development Operations Manager
Bicycles really are in Angela's DNA. As a lifelong cyclist her journey started young, when at the age of four she wobbled down the road without training wheels for the first time as her family cheered her on. Who would have guessed that this would be the beginning of so many cycling adventures? Since that day, Angela's riding has improved somewhat. Angela's passion for bicycles would eventually lead her into a bicycle industry career that gave her the opportunity to race on Trek UK's mountain bike team. Focusing on endurance events she found a passion for 24- and 6-hour races and couldn't stay off her bike. Angela's experience also covers extensive road riding, commuting by bicycle and cycle touring both in Europe and Asia – she recently completed a cycle tour in Japan. Besides an extensive career in the bicycle industry and riding bicycles, Angela is also dedicated to cycling advocacy at the grassroots level. She is a cycle instructor, as well as an assistant coach and mechanic for a local Special Olympics team and a board member for a local cycling non-profit. Angela's core belief is that bicycles bring tangible economic benefits, they create stronger communities and healthier lifestyles, and have a positive impact on the environment. Most of all, as she can personally testify, they provide us freedom and a connection to each other and our environment. Besides bicycles Angela also loves music, art, cultural connections and creating and consuming the food delicacies of Asia.