---
Speak is one of Teen Trail Corps four badges. By Speaking you create a powerful voice locally, regionally and nationally for public trail systems and management policies that welcome bikes. You contribute to the voice of mountain bikers worldwide, whether it entails lobbying efforts for better bike access, building partnerships with land managers or providing grassroots leadership.
To earn the Speak badge you will need to complete four activities within the Speak category. Your coach must confirm that you completed each activity.
We understand that the time and effort will vary with each of these activities. In general, plan on each activity varying from 1-4 hours. If you are unsure if your ideas fit within the respective categories, consult your coach for additional input. You must have permission from your parent or guardian to participate in any activity that takes place outside official NICA events.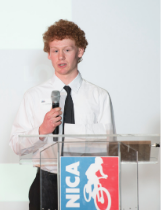 "I spoke on behalf of CSHS MTB Team and local IMBA chapter (DFMBA) about a $10,000 grant we got from REI"
Teen Trail Corps Participant
*At a CORBA meeting shared about TTC and how NICA is working with IMBA to encourage young riders to be more involved in the community
Teen Trail Corps Participant
Activities Options
1) Social media postings
Brief description
Share an existing post in social media about current land management issues related to mountain biking.

Posts may be notices to attend public meetings, to submit comments about current events, or notices to attend trail work days, or to share other useful/relevant information.
Tag NICA #teentrailcorps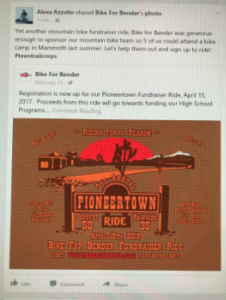 How to guidelines
Tell your coach and parents your plans to share a social media post. Ask your parent or guardian for supervision when completing the next steps.

Only share social media or posts with people in your "friend group." We recommend against "public social media" posting.

Share the post; this post can be regarding trail work days, access issues or of other fellow students giving back to the cycling community.

Link to the post on the TTC Tracking Form.
Examples and Resources
Guide to Staying Safe on Social Media
2) Conduct team education
Brief description
Research your local trail advocacy group including their mission, long term vision, and upcoming events. Find out what ways youth can be involved with the group.

Research two or more national trail organizations like the International Mountain Bicycling Association (IMBA), Sustainable Trails Coalition (STC), American Trails, or others. Compare and contrast their mission and vision with each other and then your local group or groups. What are the national groups trying to accomplish vs what is the local group(s) trying to accomplish? What are their methods for accomplishing these goals? How are they similar and how are they different?

Present your findings to your mountain bike team through a 20-30 minute presentation. Feel free to get creative with your format.

Educate your mountain bike team or your community on current mountain biking issues that are relative to your surroundings.

Educate them on how they can get involved.
How to guidelines
Connect with a board member or officer of your local trail advocacy group and ask them to help create your curriculum.

Find teachable moments while riding on your local trails to educate your team on what advocacy efforts look like. Example: Pick up a piece of trash or point out recent trail work projects.
Examples and Resources
3) Provide input to interactive mapping, surveys and requests from land managers
Brief description
Participate in current land management surveys taking place in your surrounding area

Or contribute accurate and detailed information to a publicly available trail database like Ride Spot, MTBProjet, Trailforks, Google Maps, and others.
How to guidelines
Surveys happen from time to time and you will find out about them by subscribing to news feeds on land managers webpages, connecting with the local community trail groups, and reading the message boards for specific land management sites.

There are a number of online databases with crowd sourced information including Google Maps.

Submit detailed trail information with pictures and GPS data to a publicly available trail database.

Be sure new information is accurate and detailed.

Provide links to this information on the TTC Tracking Form.
Examples and Resources
4) Writing letters on land-use matters
Brief description
Write a professional letter to a land manager on a specific mountain bike related topic. Connect with a member of your local trail group in an effort to collaborate on your letter.
How to guidelines
Write a letter to a land management agency commenting on a specific mountain bike related topic. Write this letter yourself without copying and pasting a provided template or form comment.

Writing letters to land management agencies need to be directly based on what they call for when requesting comments.

Letters to land management agencies should be crafted in formal letter writing form.

Attach these letters to the TTC Tracking Form. Include a short description of what issue you are commenting on and a URL that it was submitted to if applicable.
Examples and Resources
5) Attend/speak at public meetings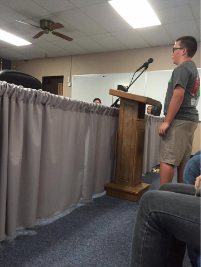 Brief description
Attend and speak at a public meeting regarding a matter directly related to mountain bike use on public lands. Connect with your local trails group in preparation.
How to guidelines
Tell your coach and parents your plans to speak at a public meeting. Ask your coach, parent or guardian for supervision when completing the next steps.

Research your city, county or state level public meetings with topics of relevance to mountain biking.

Subscribe to local land manager news feeds (e.g., Bureau Land Management (BLM), Forest Service (FS), National Park Service (NPS), Fish and Wildlife (FWS))

Connect with your local IMBA Chapter as they are typically cued into land management practices that would be of relevance to mountain bikers.

Explore the

Federal Register

and learn about how it can help keep you informed.

Look for information on the local land management agency's website (e.g., state parks and local parks)

Once a meeting has been identified, find out ahead of time whether you will be allowed to speak on a topic of discussion and if there is process to do so.

Research your topic ahead of time and prepare your comments. It's typically acceptable to bring notes with you when speaking at public meetings.

Invite your parents and others in your community who may be interested in land use advocacy.
Examples and Resources
US Forest Service (FS)
National Park Service (NPS)
How to make a public comment at a city council meeting
Recording Activities for the Speak Category:
Once you have completed each activity for the Speak Category:

Report your work in the online TTC Tracking Form
Your coach will be emailed for approval. Confirm with your coach that it has been approved.
You're done! Go share your story on social media using #TeenTrailCorps

Once you have completed at least four activities for the Speak Category, apply for your badge in the online TTC Award Application