SoCal Alumni, Bryce Longacre found his career by volunteering for SoCal upon graduation. 
After graduating from Murrieta Valley High School in 2014, Bryce Longacre reached out to SoCal League Director Matt Gunnell to see how he could continue to be involved with NICA. Matt quickly brought Bryce onto his team and during his training, RaceRite owner and Chief of Scoring for the Colorado League, Mark Bockmann quickly realized Bryce's talent and hired him to support his growing business.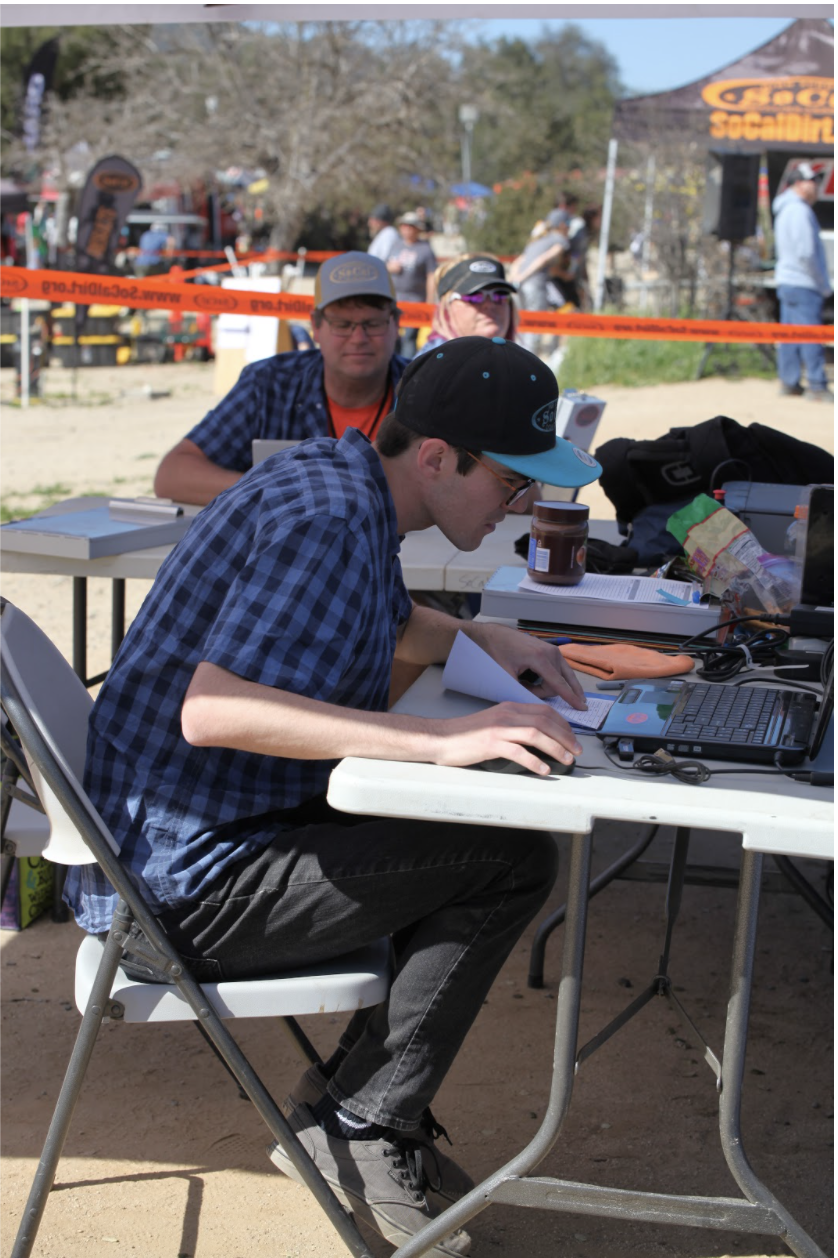 Today, Bryce works full time for RACE RESULT, is the Chief of Scoring for the SoCal League, and a National Trainer for NICA. "One of my favorite parts about being involved with NICA and training nationally is traveling to new leagues, seeing new places, and meeting new people that I wouldn't normally get to meet," says Bryce Longacre. He has been part of the NICA National Training Team for 7 NICA Inaugural League Launches (Nevada, Oregon, New Jersey, Maryland, Montana, Florida, Indiana), traveled to 3 additional leagues in support of their startup with RACE RESULT (Arkansas, Tennessee, Texas) and hosts NICA Chiefs of Scoring from across the nation at SoCal races. Jerel Wilson, NICA Senior Training Manager sat down with Bryce to talk about his experiences in NICA. 
Jerel – How did you find out about NICA?
Bryce – In middle school, I was in the running club and had just started riding bikes and getting into mountain biking.  I wanted to start a club in High School and found a friend who was already in contact with a teacher who wanted to be a coach. I didn't want to race but I wanted to be on a team, so I was one of the original riders for the Murrieta Valley High School MTB Team.
Jerel – What is your involvement with NICA?
Bryce – I have been involved with NICA as a student rider, SoCal core race staff, and National Scoring Trainer for NICA. I raced as a student-athlete from 2011 to 2014 on the Murrieta Valley High School team under the direction of coach Jay Bunch. 
Once I graduated in 2014, I realized that I would no longer be attending SoCal races so I reached out to the league director Matt Gunnel to see how I could get involved as a staff member. Matt already knew of me because I had helped my stepdad with some computer questions regarding the scoring software midseason. Matt immediately told me that SoCal was implementing this new chip-based scoring system called RACE RESULT and that I was the perfect person to run it. Leading up to the 2015 season, I visited Matt at his house and we learned how the system worked along with the current SoCal scoring manager. I primarily ran the computer side of the scoring tent while the current scoring manager handled everything else. After two seasons or so the scoring manager resigned and I stepped up to take over.
In the fall of 2015 after my first season as a SoCal staff member and my first season using the RACE RESULT system, I received an email looking for someone to train scoring for the Nevada league as they got started with their first season. I remember emailing Matt not quite sure what this would entail and Matt responded with you got this! Since then I have trained at 10 leagues across the country.
Jerel – What is your favorite part about your involvement with NICA?
Bryce – When I started as a student rider, I had no clue what NICA would offer for me in the coming years. Through my involvement in NICA, I have met so many great people who all have the same goal of getting more kids on bikes. 
Jerel – What is your favorite memory of your time riding as a student-athlete with the SoCal League?
Bryce – Most of my memories as a student-athlete involve being part of a team at races. I was never a fast racer but I enjoyed being part of a team and camping. We camped together as a team at every race and would always have team dinners where each family would pitch in and contribute to a big potluck. Now I am part of a different team, the SoCal staff, and the fun continues every time we go to a race.
Jerel – Talk about your favorite NICA Core Value and an experience you have had that exemplifies it?
Bryce – My favorite NICA core value is Community. I experience this every time I train at a new league. Each new league I attend has its own unique community of people who have gotten together to start something incredible. Most don't know each other but meet because of this new endeavor. While I am able to bring tips and SoCal culture and perspective to the new leagues, I also bring things back to SoCal for consideration. Like when we were in New Jersey and they were able to keep all of their flags assembled by running cording across the interior roof of their trailer. It's always interesting to take a look at the trailers and see how each league organizes and packs equipment. 
Jerel – One of my favorite things to share with new leagues as we are on the road is the website you created that highlights all of the NICA venues across the nation. What inspired you to create this?
Bryce – A few years ago I started laying out all of the NICA race venues from each league on a google map because I wanted to see where each league raced across the country. I have had so much fun visiting each of the new leagues I have trained and being able to ride their trails. I want to visit more of them. In order to visualize where each venue is, I created this map. Over the years it has evolved and I recently did a huge overhaul on the site to allow staff members from each league to contribute to the map. For anyone interested in viewing you can check it out at this link here or click on the map below.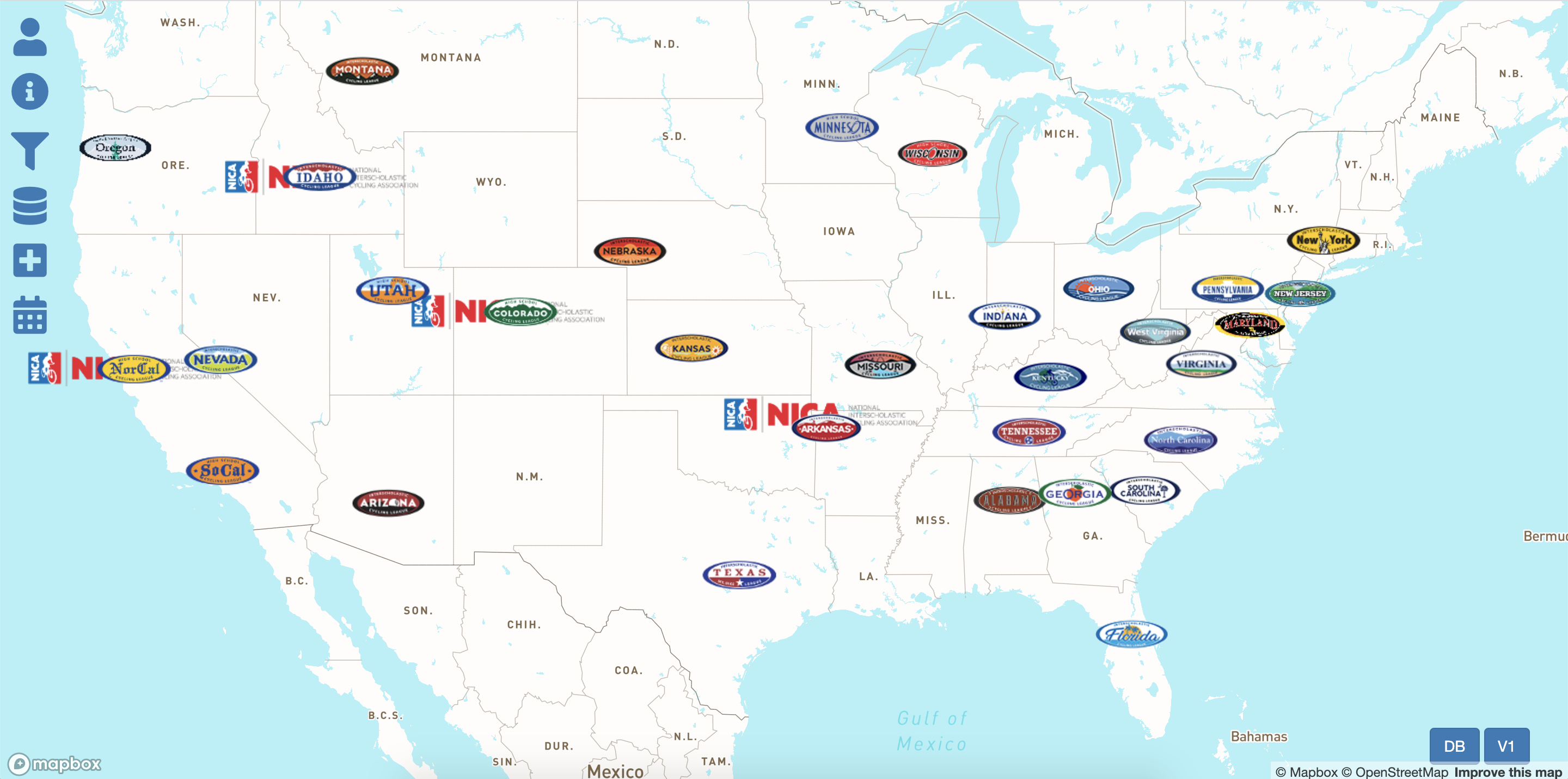 Jerel – What impact has being a part of the SoCal Race Staff had on you?
Bryce – When I started as a staff member I had no idea what opportunities it would lead to. I started staffing because I enjoyed being part of the SoCal league and I did not want to leave it. 
Jerel – How did you hear about the opportunity to work for RACE RESULT?
Bryce – I was offered the opportunity to work at RACE RESULT after I had quit my previous job. I was working for RaceRite at the time and the owner of RaceRite also runs the US Distribution office for RACE RESULT. I mentioned to him I was looking for a new job and he mentioned to me that he was looking for additional help in the US RACE RESULT office. After a few conversations, he sent me to Germany for 10 days to train at RACE RESULT headquarters. Once I returned from my trip I started working remotely as a support technician among other things like sales, bib design, and hardware repair.
Jerel – What have you learned about the variety of career opportunities available in the cycling industry?
Bryce – The biking industry is full of jobs. When I was in high school I was interested in robotics, computers, and engineering. I found a way to combine my passions into the jobs I have today. There are a lot of unique jobs within a NICA race that most people don't know exist until you are in it, timing being one of them. I had no clue what it meant to be a timer until I started as a SoCal staff member and it all snowballed from there.
Jerel – Does Race Result have internships? 
Bryce – RACE RESULT does have an internship program in Germany. But there are so many timing companies across the country where they use RACE RESULT with many opportunities for all kinds of events like marathons and triathlons. 
Jerel – What is your favorite part about working for RACE RESULT?
Bryce – It's always fun to work on really complex bib orders, often for running races, but I enjoy problem-solving for unique races that require new solutions and testing equipment. 
Jerel – Outside of cycling and running what other types of races have you provided support for?
Bryce – I liked working on a solution for timing dog sled races in the snow in Alaska. We also have a customer who is working with the owner of a NICA venue to provide a solution for contact tracing this upcoming snow/ski season. 
Jerel – What advice do you have for current NICA riders?
Bryce – Graduating is not the end of your time in NICA. There are so many opportunities in multiple industries. I would encourage all student-athletes to get involved with your league after graduation and if you are off at college away from home, see if you can get involved with a league near your school. You might even be able to find a way to help your local league while getting school credit or real-world work experience. Don't be afraid to jump in and start helping out. You never know what it might lead to.
Bryce has been an invaluable resource to the SoCal League, NICA National, and RACE RESULT. We had the opportunity to check in with a few of his colleagues to talk about Bryce's work and the impact it has had both on the partnership. 
"I met Bryce when he was helping NICA with race timing. When I recognized his talent for race timing and the passion he has for training others to learn the hardware and software, I recruited him to work with our RACE RESULT team in a support role. We couldn't be happier and look forward to seeing where his career path takes him within RACE RESULT. If you are a NICA student-athlete intrigued by timing technology or software, I would encourage you to get in touch with us or contact your local league timer and start getting involved," shares Mark Bockmann, Race Result, US Distributor. 
Soenke Petersen, RACE RESULT CEO comments, "We're an international company with customers all over the world, so we work as a global team and offer race support around the clock. Having Bryce as part of our support team has helped us step up our level of support. His experience and involvement as a NICA racer and timer have been very valuable to our engineering team for continuous product feedback and testing."