NICA unites diverse people, families and communities through cycling by creating fun and welcoming experiences. Community is one of NICA's Values and central to our mission to build strong minds, bodies, character and communities through cycling.
Recently, we caught up with Carmen Luna, the Team Director for the SoCal League's Eastlake High School and South Bay Composite teams to learn about the mountain biking community she's been building in southern California.
Four years ago, Carmen Luna didn't own a mountain bike, but she stepped up to volunteer as Team Director for her son's team when the current director stepped down. Her first year as director, Carmen was hard at work behind the scenes making sure the team ran smoothly but wasn't riding yet. At the end of her first year, she decided she needed to get on the bike herself and to support her two female student-athletes and encourage more girls to join the team. Fast forward to 2019, the team as grown from 25 to 60 student-athletes, with here are now 11 female student-athletes and 8 female coaches under Carmen's guidance. And Carmen just finished her first mountain bike race with SoCal League Coach Supporter Nikki Peterson in Tecate, Baja, Mexico!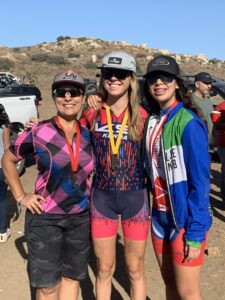 Carmen, Nikki and Ximena post-race in Tecate.
---
How does she do it? Community. Carmen's teams are from a broad diverse area - they serve an area in southern California that reaches from Coronado down to the Mexican border. To bring this broad area together and recruit and retain both student-athletes and coaches Carmen is building a community not only for her student-athletes but for her coaches as well. At the end of the season, Eastlake and South Bay Composite host a big team party where the parents can connect. The parents have connected so well that they have an adult group that rides together in the off-season, often bringing new coaches into the community and increasing their riding skills so they can better serve their student-athletes.
---
"We have a family culture on our team - everyone from our student-athletes to their parents and our coaches is very welcoming. There's something magical with the dynamic we have, everyone shares a passion for mountain biking and is excited and happy to be here." says Coach Carmen.
---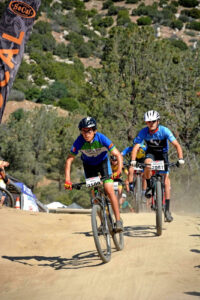 Ivan racing in the SoCal League.
The strong community surrounding Eastlake High and South Bay Composite is also creating student-athletes with strong character. Ivan Perez was a quiet, but dedicated rider when he joined 4 years ago. Now a junior, Ivan has become a leader on the team, sets an example through his respect for his coaches and other riders, his volunteer trail stewardship and earned several podium spots in the SoCal League last season.
---
When it comes to increasing female participation, Carmen hosts special rides and extra skills trainings, and will bring fun swag items like stickers to races for her female student-athletes. There is a trio of girls, Ximena Duran, Karla Díaz, and Ximena Silva on her team, who helps recruit by creating a very welcoming community for new female student-athletes. "They'll tell new girls 'Come be a mountain biking sister!' and while they compete against each other at races, they stick together to motivate and push each other to do their best.
And as to directing her teams, coaching and mountain biking - Carmen says "It's been one of the greatest experiences, it's transformed my life to be part of this team." Carmen also credits much of the success of the Eastlake and South Bay community to its incredible coaches, parents and the local community vendors and sponsors that support the teams.
Thank you Carmen for serving as a role-model, creating a community and helping get #morekidsonbikes!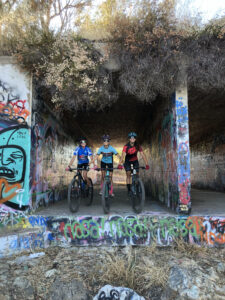 Ximena, Karla and Ximena - the mountain biking sisters!