In honor of Father's Day this month - we caught up with Texas's new League Director, Adam Finck. This father of two has been involved with the Texas League since it was launched in 2012, first as a head coach for the Lubbock Bombers and now as the new Texas League Director.
Adam has always been involved in two-wheeled sports. He raced motocross growing up, and as a professional for a short time before moving to cycling as he went to college. While at college, Adam fell in love with mountain biking, racing as a professional for a bit and loved every minute of it.
We're excited to have Adam as part of the NICA community!
---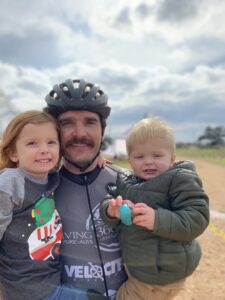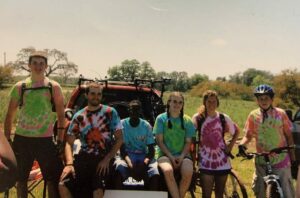 Adam and the Lubbock Bombers at the Texas League's inaugural race. Photo: Ginger Hall
How long have you been the Texas League Director? This will be my second season.
How did you find out about NICA and why did you want to get involved with the Texas League? When in college, one of my close friends asked if my girlfriend, now wife, wanted to start a high school mountain bike team. Naturally we were on board and just went with it! Turns out we were at the first leaders summit in Texas and started one of the first ever mountain bike teams in the state. My wife and I moved to San Marcos, TX  and helped start a team there as well. All in all, we spent 5 years as head coaches and took some time away from the league to start a family. Then, through a crazy sequence of events, I found myself as the league director.

What is your favorite aspect of being a NICA League Director? I really love all of the emails….kidding. But really, I love being able to create an awesome environment for kids. Mountain biking is a universal language in some ways, and it's so cool to get to share it with the yougins.
---
What's been the biggest challenge and change going from Head Coach to League Director? It's like comparing apples to oranges. Being a head coach is completely different than being a league director, but both jobs are important. Right now, everything about being a league director is a challenge because it's still new to me, but I'm excited about what I can accomplish in this role.
As a Father - how do you see NICA playing a role in your kids lives? It's pretty clear to us that they will grow up around the league. The Texas League is pretty much our extended family and it's going to be so cool to get to share that with our children. They are pretty young right now, but they seem to have already made some great friends!
Is your family involved with the league as well? My wife is my secret weapon. She doesn't do a specific job, but she's always there to help with anything.
How has being a part of NICA helped you and Texas get more kids on bikes? Well, that's kind of the whole point of NICA so…. We all know how powerful being involved in a positive community can be, so it's like everything we do is in an effort the share that with others.
---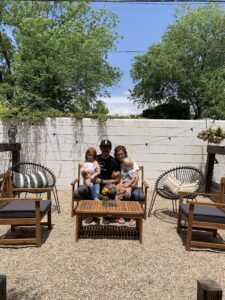 Do you have a particular ride or experience from a Texas League race or NICA event that really stands out? If so, why? My last mountain bike ride with Vance, the previous league director, really stands out. He started the whole Texas League and done so much for Texas youth, so it was an exciting/strange experience to feel like the torch was being passed to me, so to speak. Also, my first ride at the 2019 National Conference in Sun Valley, Idaho. It was like I began my journey as League Director by riding in Gondor. Really, I could tell you hundreds of great stories about the kids I've coached and the friends I've made.
What is one thing you've learned as a League Director that you'd like to share with other leagues?  "You get what you create, and what you allow." Dr. Henry Cloud
What is your favorite post-ride treat?  A Mexican Coke! The medio litro.

How do you think Texas League coaches and student-athletes would describe you? Well, I hope it is something along the lines of "he understands the big picture of NICA, and doesn't get too fired during conflict." ….. Shoot, I'll be happy with "yeah, he's cool".
Thanks Adam! We think you're pretty cool 😀