As we head toward what in any other year would be spring league championships, proms, senior pranks and graduation, our hearts go out to our Class of 2020 Seniors. We are proud of what you've accomplished as students, athletes, role models and mentors throughout your time with NICA and are thankful that you chose to make NICA part of your middle and high school career. We wish all our seniors all the best in their future plans and truly hope that mountain biking remains a strong part of their lives. From across the country - here are some snapshots and spotlights on some of our awesome Class of 2020 seniors!
---
Anja Jensen - Idaho League, Wood River Mountain Bike Team  
Anja loves mountain biking, even though her racing days may be over, she still heads out regularly for fun rides with her sister or parents.   She raced in every single NICA race all four years. Anja was a leader on the team.  She didn't say much, but she lead by example, and her example was pretty hard to miss.  She was usually the first kid to show up and help set up the Pitzone, and last to leave helping to take it down.  She always came to practice ready to have a good time with her teammates.  Anja was varsity state champion three out her four years.  She preferred a good race to an easy win any day, even if her opponent came out on top.   She was an amazing role model for the young girls and boys on the team.  The Wood River Mountain Bike Team will miss her next season!
---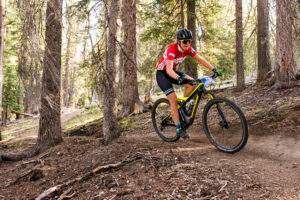 ---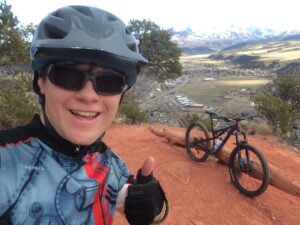 ---
Nat Crawford - Colorado League - Colorado Rocky Mountain School
Before high school Nat Crawford had barely ridden a mountain bike and didn't like sports in general. On his school's freshman week-long beginner mountain bike trip on the White Rim Trail in Utah, the brakes of his bike gave out on a steep downhill and Nat was seriously injured. His family wondered if he'd ever want to ride again. To their surprise, Nat not only wanted to get back on a bike, but decided to join his school's NICA team with the goal of one day qualifying for the Colorado League State Championships. 
The next fall, Nat finished his first NICA race in 117th place. He improved to 73rd that first year. The next year, near-miss in qualifying for states led him to examine how he trained and built up his skills.  In the fall of his senior year, Nat finally met his goal at the JV level, finishing his regular season in 44th place and headed off with his team to states. In two years he had moved from his first race in 117th place to a final ranking in regular season of 44th place. He rode his final season on a bike he custom-built himself. At the end of his final race in Durango, he and his senior classmates sat together at the finish for a long time after their race was over, sad that their time with NICA was over.
Nat wrote his senior speech about his journey with bikes, and part of his reason for picking Colorado School of Mines for college was based on its proximity to bike trails and having a mountain bike club and an on-campus bike shop. 
 Mountain biking is where his heart and soul is at, and the NICA races were a huge part of both his high school years and the development of his love of the sport. He hopes to continue racing and riding whenever he can in college and beyond.
---
Connor Leopard - Alabama League, Oak Mountain High School Mountain Bike Team
Connor Leopard is a graduating senior from the OMHS MTB Team and has raced in every NICA Alabama League race since the inception of the league 6 years ago. Connor has steadily progressed through the league, finishing 20th overall in Freshman boys as a 7th grader and winning the overall Freshman State Championship as a 9th grader. 
Connor has always wanted to challenge himself, so instead of going to JV as a 10th grader for an almost certain 2nd State Championship season, he requested that his coaches petition him up to Varsity. In spite of a difficult start to the season, his strong efforts earned him 3rd place overall in Varsity Boys as a 10th grader. He moved up to 2nd place overall Varsity Boys as an 11th grader, leading his team to a 3rd place overall for Division I Teams in the Alabama League.
As a senior, Connor led the Oak Mountain team to a 2nd place Division I finish in the only race the League was able to conduct due to the Covid-19 shortened 2020 season.
Connor is a quiet and thoughtful young man who is kind to everyone. He has been a great example of steady leadership for his teammates and an encouragement to the entire coaching staff. Connors parents have both been heavily involved with the team for the past six years and their dedication has been a key factor in the great family atmosphere that has become part of our team culture. 
Connor's dedication to NICA, the OMHS team, his teammates, and our coaching staff during some difficult and trying times has been impressive and appreciated. His coaches wish Connor all the best as he takes his quiet leadership skills and great attitude and applies them to the next phase of his life.
---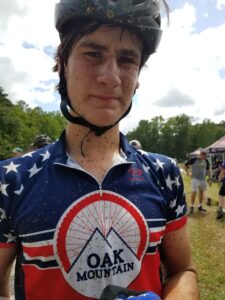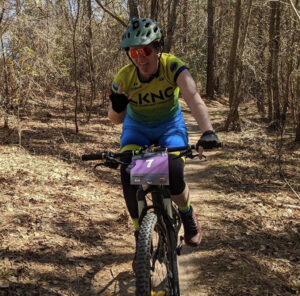 Laurel Long - North Carolina League, Lake Norman Composite
NICA was the highlight of my highschool years. High school has been a tough time for me, and the wonderful community I met through the North Carolina League helped me get through it. Being a part of a team was the most impactful thing for me. I had been riding and racing for a long time before NICA, but I had never been on a team or in an environment that valued community over performance before. I can go anywhere and just do a race, that's nothing special but being a part of a team where it's about just being kids having fun on bikes together and supporting each other... that's special. 
I'm really bummed that I wasn't able to finish my senior Varsity season, but I still was able to do what I set out to do. I'm ready for what's next.
---
Tyler Zierer - New York League, Niskayuna Nica Mountain Bike Team
Tyler joined NICA when he was in 8th grade.  After a season of watching his brother race, he was ALL IN to join the fun.  Since his first year, his passion for the sport has really blossomed.  
Since joining the team, mountain biking has become a big part of Tyler's life.  First was the challenge of riding – mastering the obstacles, gaining fitness, and experiencing the thrill and challenges of racing.  Next came the camaraderie – the fun of riding with others, pushing each other, the festive atmosphere of the races, the building of new friendships.  Then came the realization that performance was more than just skills and fitness, it was the quality of the equipment and how well it was maintained. 
Once Tyler was hooked on riding, he then became hooked on bicycles.  He saved up and paid for half of his full-suspension bike, and he learned how to maintain it.  At practice, Tyler has been a great role model.  He works hard at practice and strives to be competitive at the races, but he also mentors and encourages his teammates.  He is always out on the trail cheering not only for his teammates, but also for riders on other teams.  He loves to compete, but he also values the fun of the races and never takes tough races too hard.
When this season was put on hold, mountain biking provided some solace for Tyler. To keep busy during stay-at-home orders, Tyler got out the wheelbarrow, shovels, and rakes and proceeded to build a pump track.  Then an amazing thing happened – people noticed!  Along one side of Tyler's yard is a gravel trail that people can use to access the high school.  His family doesn't  have a fenced yard, so neighbors are able to access the pump track.  Kids of all ages started discovering it and giving it a try!
---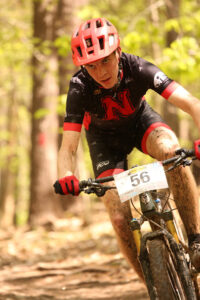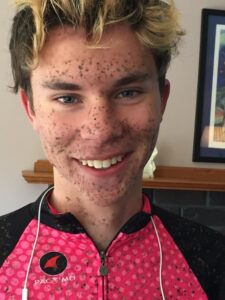 Charlie Longshore-Neate - NorCal League, Davis Composite
Charlie  joined a fledgling Davis Composite Mountain Bike Team in California in 2017 and quickly fell under the spell of the sport.  Already an avid skier and alpine racer, he challenged himself with new skills and a completely different kind of effort—and grew to love the climb as much as the descent.  But more than the sport, he loves his teammates, and has always seen every race as an opportunity to cheer every rider, as well as meet and befriend racers from around the state.
---
Sydney Youngblood - Georgia League, Paulding County Composite MTB Team 
Sydney has spent the last four years as a PCHS Patriot and has grown exponentially in her endeavors both academically and socially. Sydney has been a part of the Academy of Science, Research, and Medicine during her time at PCHS and she has completed pathways in Biotech, Healthcare, and Foreign Language. Sydney didn't discover mountain biking until her junior year, but after joining Paulding County Composite, was immediately hooked. She placed 6th overall in JV girls her senior year. Sydney will be attending The University of Georgia in the Fall where she will be pursuing a degree in public health.
---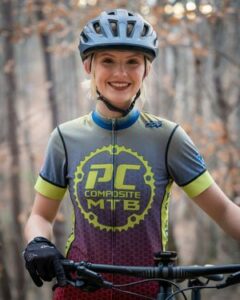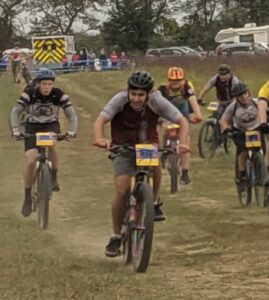 Dean Metsikas - Pennsylvania League, St. Joseph's Prep
Dean went to one of his teachers  a few years ago and shared his love of riding. He asked to start a mountain bike club and then spent a year recruiting other students, meeting during community period watching videos of people riding mountain bikes. The group grew from just talking about bikes to riding bikes and in 2019 raced their first season as a NICA team. St. Joseph's Team would have never gotten its start without Dean's enthusiasm and commitment. Dean left a lasting mark on his school's community. So many students at our school became mountain bikers because of him. St. Joseph's Prep  thanks Dean for having the fortitude to see his school create a legitimate club around the sport of mountain biking we all love.
---
Ryan Landis - SoCal League, Great Oak High School
Ryan has been riding with the SoCal League since eighth grade. He has always loved riding a bike ever since he was a toddler.   Once he started racing mountain bikes he knew this was something he wanted to do for the rest of his life.  He had a stellar sophomore year earning "points leader" for the sophomore category in division 1 in the SoCal League and then went on to win the California State Championship his Sophomore year. 
Ryan has always been a conscientious student earning 4.0 grade point averages and by being actively involved with his high school mountain bike team (Team Captain this year), YoungLife, Fellowship of Christian Athletes, his church youth group, and he loves to mentor other young mountain bike riders.
Ryan has been given the opportunity to ride as a college athlete with Milligan University's Cycling Team in Elizabethton, Tennessee this fall and will be studying mechanical engineering.   Ryan aspires to invent all kinds of new bike parts and engineering them for bike companies or perhaps even someday owning his own bike company!  He wants to continue competing after college and he hopes to coach a high school team someday!
Being a part of the NICA SoCal league has meant so much to him and has provided him with the opportunity to grow in order for him to become the man that he is today. 
---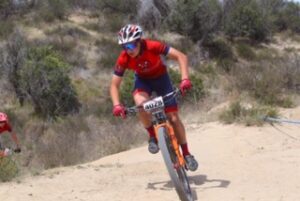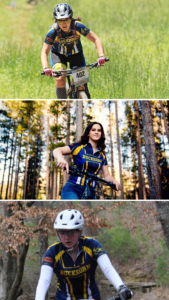 Bailey Parker, Chloe Adams and Madi Ford -  Alabama League,  Buckhorn Mountain Bike Team
Bailey is a 6-year student-athlete with the Alabama League and thoroughly enjoyed her time with NICA!  She plans on attending UNA for bachelors in Molecular and Cellular Biology.
Bailey is a hard worker with attention to detail. She is honest to a fault and loves to be silly and have fun too. She is always worried about others and others feelings, and always sticks up for those who are wronged.  Bailey is a loyal friend who is always there. It fills her heart with joy to help others and to feel that she is making a difference in the world.
Chloe has raced for 6 years with NICA on the Buckhorn High School Team from New Market, Alabama.  She was Alabama State Champion her eighth grade year.  Chloe has also competed in  Archery during high school.  She will be attending UAB to study NeuroScience.
Madi has been a part of the Buckhorn High School Mountain Bike Team for 4 years. She has been involved in several clubs, as well as being very driven academically. Madi is a self starter who works hard in everything she does. She is wise beyond her years and shows such integrity as she conquers each day. Madi will attend Auburn University in the Fall.   She plans to major in biology and is interested in veterinary medicine.
---
James Nebrig and Theo Fabian - Arizona League, Prescott High School and BASIS Prescott
James and Fabian have raced with the Arizona League for the past four years, but have been friends since meeting in Cub Scouts in 3rd grade. The two Eagle Scouts were introduced to mountain biking while earning their bicycling merit badge together.
James and Theo have spent the past four years as NICA friends on the start line and competitors on the course. Theo raced for BASIS Prescott and James raced for Prescott High School.  In their senior year their schools finished in first and second place respectively in Arizona.
Theo will be heading to Colorado School of Mines to study mechanical engineering and James will head to Northern Arizona University to pursue an MBA and a commission as an Air Force officer after graduation. NICA has played a significant role in their growth and development and no doubt has provided life long lessons and stories that they will carry forward with them as they begin an exciting new chapter in their lives.
---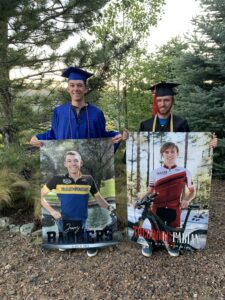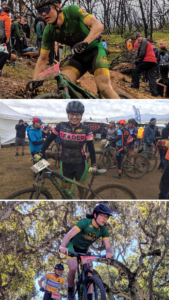 Tommy Robinson, Elizabeth Odell and Ethan Hunt - NorCal League, Humboldt Composite
Arcata High School graduate Tommy Robinson has been part of the Humboldt Composite Team since 2017, finishing as Team Co-Captain. Tommy started his first season with a top place of 6th in freshman boys. Over the next several seasons Tommy's enthusiasm, contagious positive vibe, and increasingly shreddy riding were so fun to watch. He finished on the podium twice in 2019 and was on track for a fantastic final season, finishing 6th in his final NorCal race at Swansea Shred! 
Academy of the Redwoods graduate Elizabeth "Lizzy" Odell has been part of the Humboldt Composite Team since 2017, with a stellar first season featuring several powerful podium places. Over the next couple seasons Lizzy's incredible focus and tenacity, mental drive, and beaming contagious smile impressed us all. In her 2019 junior year she won two JV girls races, took two second places, and finished a gritty 6th place at the California State Championships riding in a flat tire in the last mile. In this, her senior year, Lizzy spent several months on Rotary exchange in Spain. There she continued racing with local race teams that she said we could learn a thing or two from. The team van and service center being two!
Academy of the Redwoods graduate Ethan Hunt joined Humboldt Composite in 2018, progressing impressively over each season. Highlights were 14th in his first season, 10th in the second and starting his senior year at the 2020 Swasey Shred race with a powerful 7th! Ethan's great sense of humor, awesome quips, and ready grin made practice and race sessions always a good time!
---
Kaue King - Florida League, Pembroke Pines Charter HS  
Kaue has a road and track background from his junior cycling team. He found out about the NICA program at his HS and was very motivated to race for his school.  Kaue helped get things set up at the school for the team coach and recruited his Dad to be an assistant coach. Kaue was very helpful in organizing and getting volunteers to help with team fundraising working many hours helping raise money for the team.  Kaue's was really enjoying being part of the team and placed 5th in the first race earning points helping his team win the team series.