When the recent COVID-19 restrictions put a sudden halt to NICA's spring 2020 in-person activities, that didn't deter Bella Hyser with the Alabama League from continuing to ride and connect with her fellow student-athletes while still staying safe.
Bella took initiative on her own to set up a virtual fun ride for girls across NICA and sent the invite in her Instagram story. The response? A great success! Several girls from across the Alabama League and one from the Maryland league have all become regulars on the Friday morning spin. There has even been some interest from pro race Chloe Woodruff!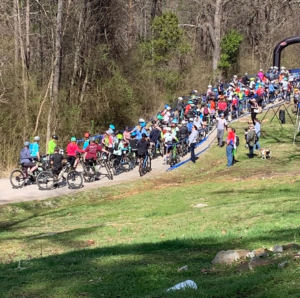 GRiT pre-ride in early 2020 with over 85 girls! Photo: Alabama GRiT
So how does it work? Simple - starting at 9am (or when the Varsity girls would race on a typical race day in Alabama) "staging" happens where the girls all login to a Google Hangout. Then for the next hour they all sit on their trainers (no smart trainer required!) and spin and chat. The ride isn't competitive and according to Bella the best part is "getting to see everyone and catch up!"  While they do meet at the Varsity Girls start time - the ride is wide open to any girls who want to participate. Currently there are Varsity, JV and Sophomore riders from different teams in Alabama and Maryland that connect. In a time when there's an uncertainty of future cycling get togethers and races, it's hard to stay motivated, but having a weekly meet-up to see friends AND ride? That's motivation!
Bella is no stranger to connecting with other girls in her league - she's been active with Alabama's GRiT program for several years, and her mom, Erin Hyser, is Alabama's GRiT Coordinator. The experiences Bella had with Alabama's GRiT program are parallel to what she's been creating with her Friday morning spin. One of Bella's favorite parts of GRiT are the pre-rides on race weekends. This year they had 85 girls participate in the GRiT pre-rides! Bella enjoys the rides as there's no pressure and they offer a great way to connect with female student-athletes on other teams. As a GRiT Coordinator, Erin has noticed that the pre-rides also bring together a wide range of girls and have empowered some female student-athletes who may be more introverted to come out and make connections they otherwise would not have. 
Both Erin and Bella are hopeful they'll be able to connect with the Alabama GRiT community once it's safe again - but until then, Bella is keeping the motivation going for a community of female student-athletes with their weekly ride! And hopefully - they'll get Chloe to join one of these days soon!