This fall the Wisconsin League hosted an essay contest for their student-athletes to describe how mountain biking has made an impact on them during the COVID-19 pandemic. Read on to hear how mountain biking helped Wisconsin student-athlete Kylie Krayer stay connected with friends and manage stress and anxiety.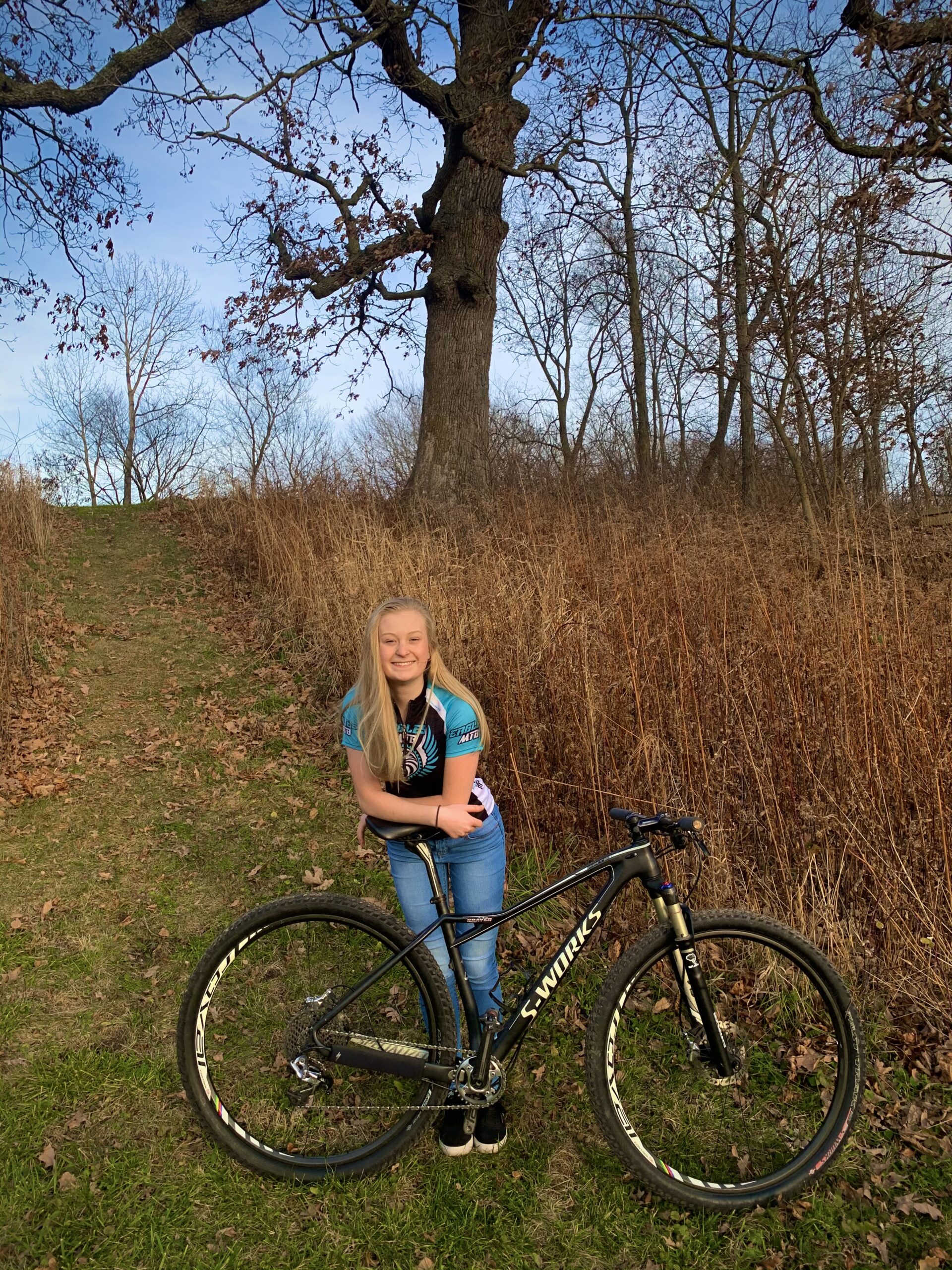 Mountain biking has always been my escape. I never imagined my junior year of high school; when I was supposed to be going to bike races, football games, hanging out with my friends and planning for my future I would have to take into account a global pandemic. Now more than ever mountain biking is a way to relieve stress, connect with others, and make lifelong memories.
When I first heard about COVID-19 I told everyone who would listen, very confidently, that it would not cancel school. It was March and we still hadn't had a snow day. From my perspective, if the Wisconsin winter wouldn't stop school why would a trivial virus? I was extremely wrong. My school, like many others, went virtual. And I, like many others, went insane. Being cooped up in the house all day staring at a computer screen trying to learn, stay connected, and managing my mental and physical health was, to say the least, a big job. Like many other times in my life, I turned to mountain biking to relieve my stress. I often tell people that when I go for a bike ride that before I even leave my driveway I feel the stress leave my body. It seems that as soon as I clip my feet into the pedals my body tells my brain that it is now time to let the rest of the world go. It is time to focus on the present.
When I had a chance to realize I wouldn't be able to do all my favorite things I was devastated. My dramatic teenage mind told me my life was over. So I did what any rational high-schooler would do and scrolled through Tik Tok. No, no, while there was a lot of that this quarantine the most important thing and the reason why you were here reading this is to hear about my adventures through riding my bike.
I am an intensely competitive person. Race days were always the best days of my summers. I loved standing on the start line looking to my left and right and desperately hoping I was faster than the people next to me. Don would count down and my heart would beat faster and faster but as soon as he said go everything would melt away and I would just go. Of course nothing will ever replace the thrill of racing, but a lot of things that were just the same this year. I got to travel to The Kettles, Standing Rock, and the famous Trek Trails in Waterloo. Our team called these  "adventure rides " and they were almost like race weekends where we would drive to a new location and ride our bikes until we couldn't anymore. We talked, we laughed,  "raced" each other, and we had some good crashes. (I'm still
recovering from a concussion Kathy Mock said to be the worst one she's ever seen. I guess my go big or go home attitude worked too well that time.)

Not being able to see our actual friends and family has been hard on us all, but I got to see my bike team which is the next thing best for me. One of the things I love about our team is that I can push other people to do their best and other people push me, too. I can learn and I can teach. These people understand the fire that burns in my belly every single day. They understand the incessant urge to push limits and break boundaries. They understand the indescribable memories that we've made and they understand how difficult but how rewarding it all is.

Mountain biking has kept me sane during this pandemic, but also all throughout my life. It's made me into a stronger person. It's helped me manage my anxiety. It's created a support team of people I can rely on. I've been with this team for 6 years. I've watched it grow, and I've watched it struggle but most of all I've watched it thrive. I'm so proud of what we
each have achieved as a team, especially being known for carrying mannequin heads around at races. That's really our greatest achievement. I hope to see everyone next year so let's all put on our masks, keep our distance, and try and get ahead. (: