In celebration of Women's History Month - we're highlighting some of the visionary females across NICA who are making positive impacts on our mountain biking family!
---
Garrison Forest Mountain Biking Team
The Garrison Forest Grizzlies recently wrapped up their first NICA season with the Maryland League. Based out of Owings Mills, Maryland, Garrison Forest is one of  a few all-female teams. Garrison Forest Team Director (and the school's athletic director), Traci Davis, started the team to give her students the opportunity to try a non-traditional sport that would be an empowering way to introduce them to the outdoors and help build their confidence.
Over their inaugural season, Davis saw the girls develop more self-confidence, resilience in the face of challenging situations, and also develop friendships with their fellow competitors. Through mountain biking, Davis also found her student-athletes were discovering a camaraderie unique to mountain biking. "At races, the girls developed a great sense of camaraderie, they were excited to receive encouragement from everyone along the course - including fellow competitors!"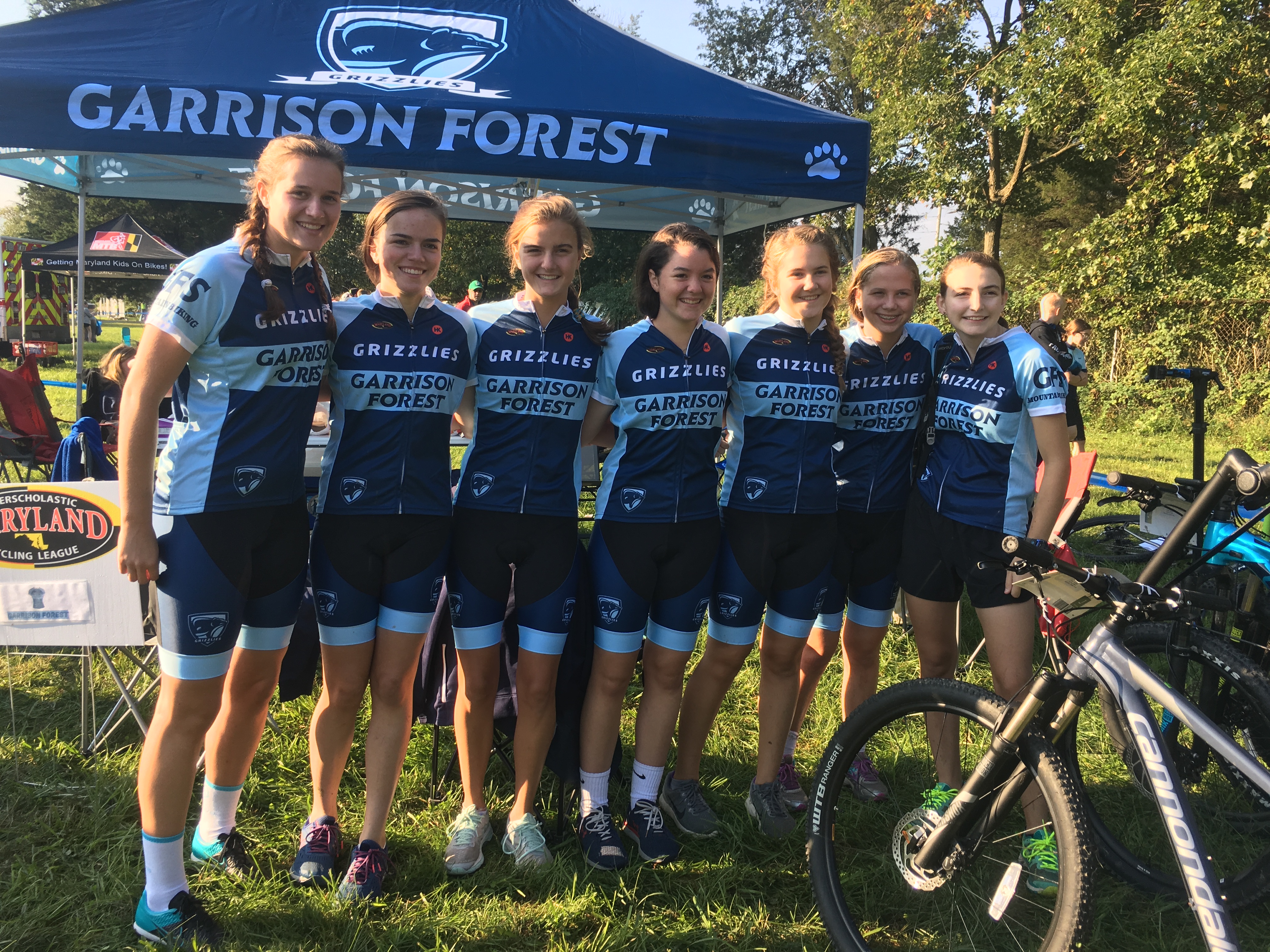 Heading into their second season, the Grizzlies are gearing up for even more fun. Two of their student-athletes recently spoke at the Maryland League's Dirt Tour to help recruit more teams to the league. At their team level, new trails developed by the school are facilitating practices and the team is planning a recruitment campaign to help get #moregirlsonbikes!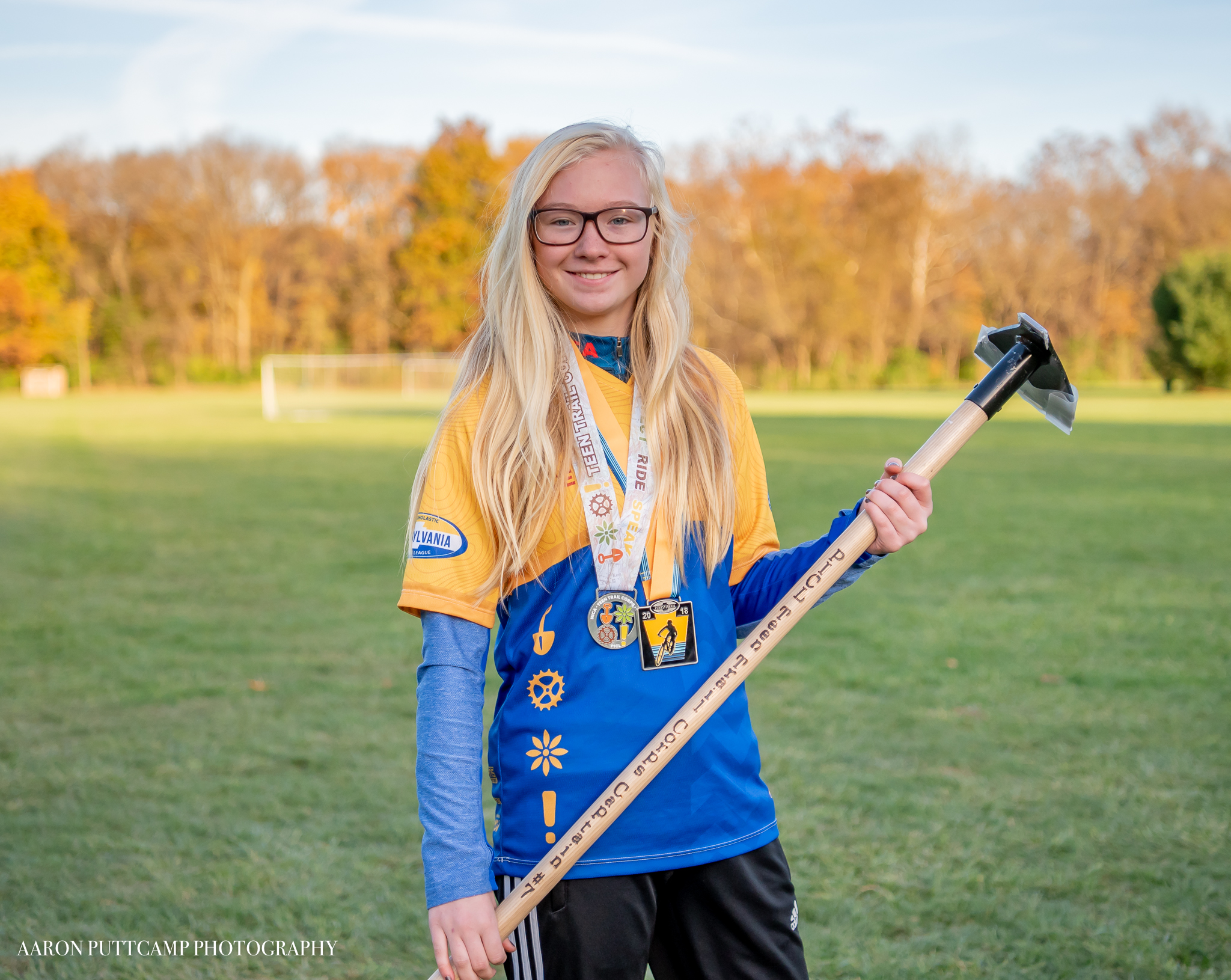 Hannah Puttcamp - Trail Advocate
In the Pennsylvania League, Hannah Puttcamp is making an impact on and off the bike! Hannah started riding 3 years ago with Keystone Composite and loves just getting outside, being in the woods and riding her bike. She's also involved in GRiT (Girls Riding Together) activities, and was able to meet her best friend through some of the GRiT pre-rides last season.
After attending her league's GRiT Camp, Hannah also became involved in Teen Trail Corps Activities. She felt drawn to trail advocacy and saw it as a great way to give back to her local community by creating and maintaining something that people often unfortunately take for granted.
Hannah's work with Teen Trail Corps helped develop and maintain new trails in her local park. The project earned Hannah her Teen Trail Corps Captain Award, as well as a Girl Scout Silver Award. While mountain biking, racing and trail advocacy may seem like a lot of hard work, Hannah has some great advice for girls (and anyone!) new to the sport - "Don't give up! Mountain biking can be hard at first, but if you keep at it and don't give up, it's worth it!"
---
The Drake Pirates are one of the NorCal Leagues oldest and most successful teams. Drake began racing in the spring of 2003, won their first California State Championship in 2009 and has won eight total as of 2018. Now, under the guidance of Co-Head Coaches Rob Reed and Laura Childress, the Pirates have a new goal - to be 50% female by 2025.
Four years ago, about 17% of the team was female, but the school itself is about 50% female. Given this, Coach Rob began working with female student-athletes, their parents, and other female parents and coaches on the team. They made their goal public to help it become realistic and attainable, and it's working! Currently Drake is above the NICA National average, with currently 33% female participation.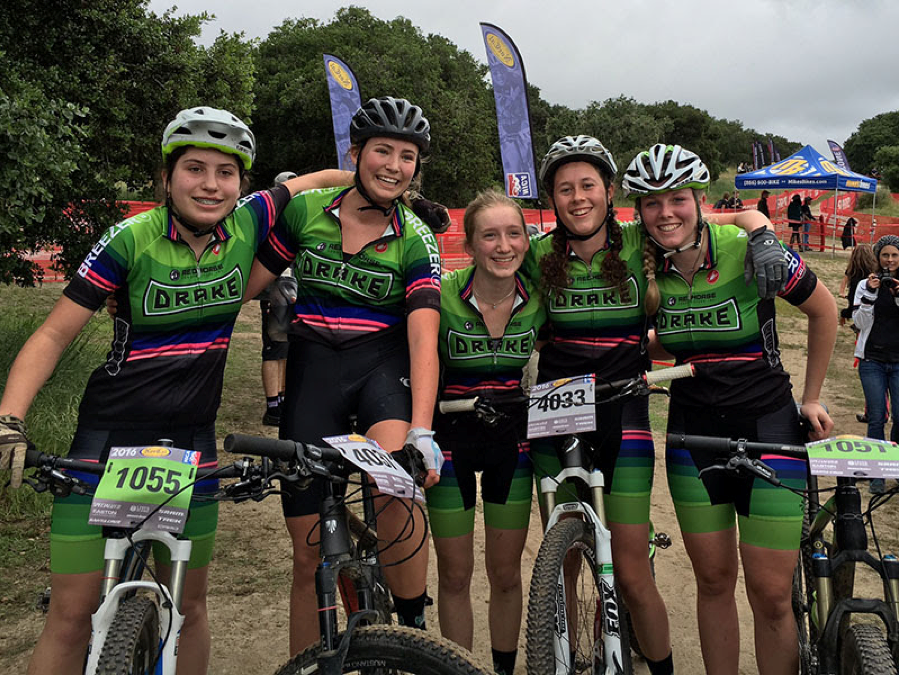 So how does Drake do it? It's not one easy task - but several different grassroots efforts to build an environment where female student-athletes feel included, are empowered and have strong female role models. Coaches Rob and Laura also work closely with the parents of their female-student athletes to get them engaged with the team and community.
Drake's female student-athletes also engage with the community to help introduce younger girls to the sport. At the end of each season, current Drake female student-athletes host 3-4 outreach rides for local middle school girls that are interested in mountain biking. These fun, casual, no-drop rides make it easy to introduce new girls to the sport in a fun, non-competitive way.
Mentoring and developing strong female role-models is also key to Drake's increasing female participation. On their team rides, it will often be a female varsity rider leading the "fast" group up the local climbs. Drake has also been recruiting strong female role models, such as Coach Laura Childress, to serve as coaches and ride leaders.
According to Coach Rob "the magic is getting the kids outside, working hard as a group, and helping the stretch beyond what they're comfortable doing."