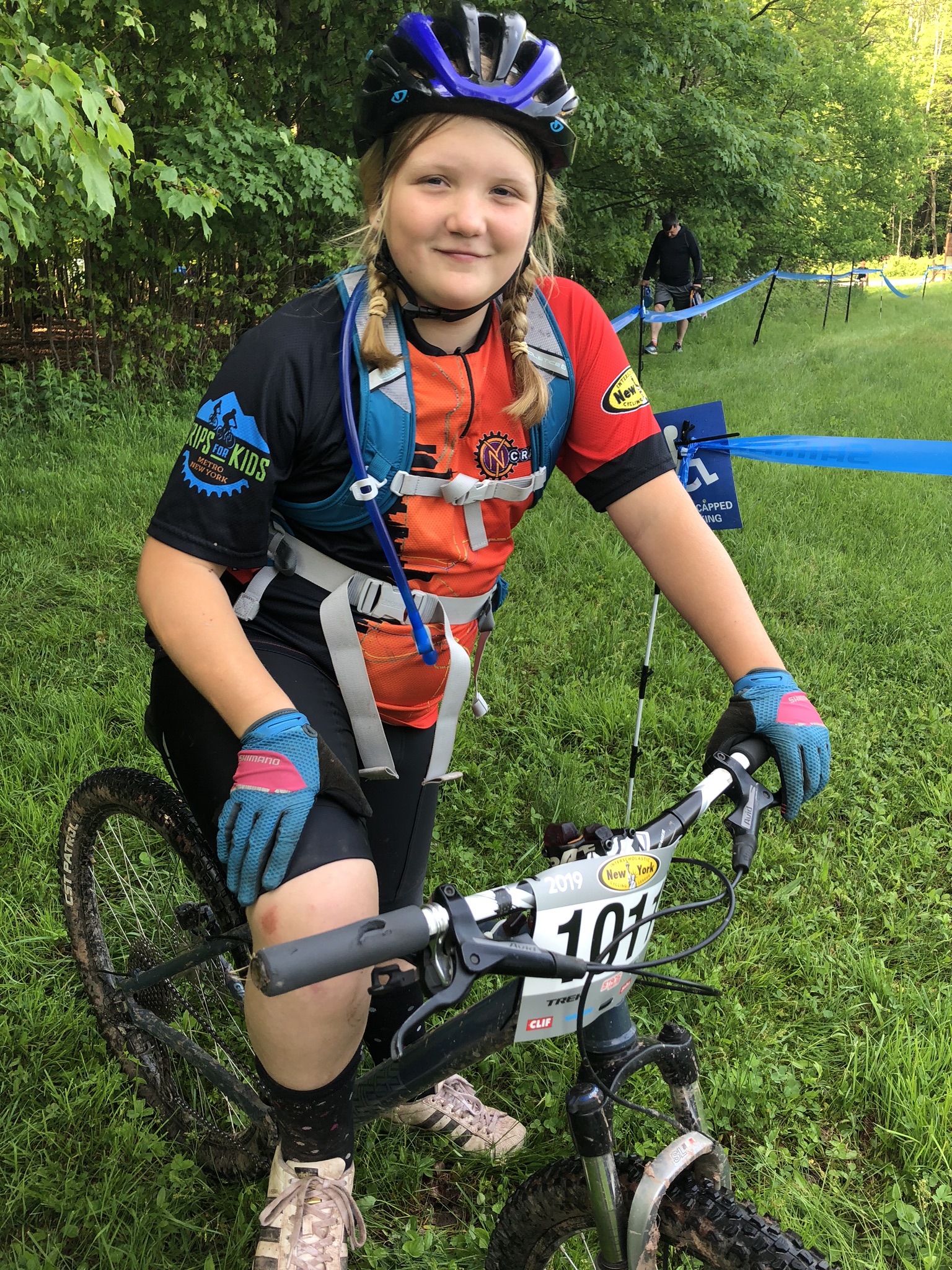 Ruth Seidel races with the New York League and has enjoyed their GRiT Activities. Photo: Ruth Seidel
NICA GRiT (Girls Riding Together) is a national initiative to increase our overall female participation in NICA programs to 33% by 2023. Across participating leagues, GRiT Coordinators are hosting rides, camps, socializing opportunities and developing ambassador programs all aimed at increasing the number of girls and female coaches in NICA programs.
We'd like to introduce you to Ruth Creely Seidel from Brooklyn, New York, who rides for the New York City Cranks with the New York League. Ruth has been riding mountain bikes for a while, but just wrapped up her first NICA race season. At first she was a little nervous, but thanks to the NICA GRiT rides and activities put on by the New York League and their GRiT Coordinator, Dolores Diaz, Ruth had a fantastic first race season and wrote an essay about how GRiT is making her more passionate about mountain biking!
---
A lot of the memories my brother and I have with our dad are biking. I remember the first time we went to a bike race. I was confused as to what it was since I'd never attended any of my brother's practices myself. My mother promised, Ruth, come on; it will be fun. So, come Saturday morning, my family and I packed up our bikes (mostly my family packed while I sat in a corner and read) and we traveled up to the mountains.
We continued to do that every race weekend. Sadly, I was in fourth grade at the time and couldn't race and there were limited opportunities to ride non-competitively because the weekend was focused on Sunday's race. I loved cheering my teammates on and especially loved the camaraderie of the team but I felt something was missing. I wanted to be on the team! I didn't want to get those chairs-are-for-racers-only stares and not be included in talks about the race. I didn't want to feel intimidated by the older racers on the team but I also feared I wouldn't be ready for racing next year. I worried how I'd feel during the race if all of my competitors excelled and I was left in the last place.
So when this year rolled around, I was already jittery. Was it excitement or nerves? I couldn't tell. I didn't want to place negative pressure on race weekends or start to dread them just because I was stressed about racing. Then, at the first race weekend this season, my mother and father heard something about a GRiT mountain bike ride for girls, racers and non-racers. They thought it would be a no-brainer for me to go and ride with other girls and women that were learning to ride. I was eager as well but worried about what would happen on the course. Was it too long for me? Would I not be able to complete the climbs?
---
The first GRiT ride turned out to be super fun! It was awesome to meet other girls my age that are interested in racing which really helped me feel comfortable. I would never have met them if it wasn't for GRiT. Another thing I love is the GRiT booth which is a really fun place to hang out with friends after your race or ride. They have papers to make posters cheering on your team, and a great spot to meet new friends on other teams. Before GRiT, I didn't know about all the cross-team friendships that I would develop and that is almost half the reason I race now.
At the end of the season, I actually raced in my first NICA race ( and have actually done two now!) and really looking forward to the next season! I wouldn't have been a racer or been passionate about mountain biking if I hadn't been introduced to GRiT. I am so truly thankful that GRiT has opened up as many windows for me as it has. Thanks, GRiT!!