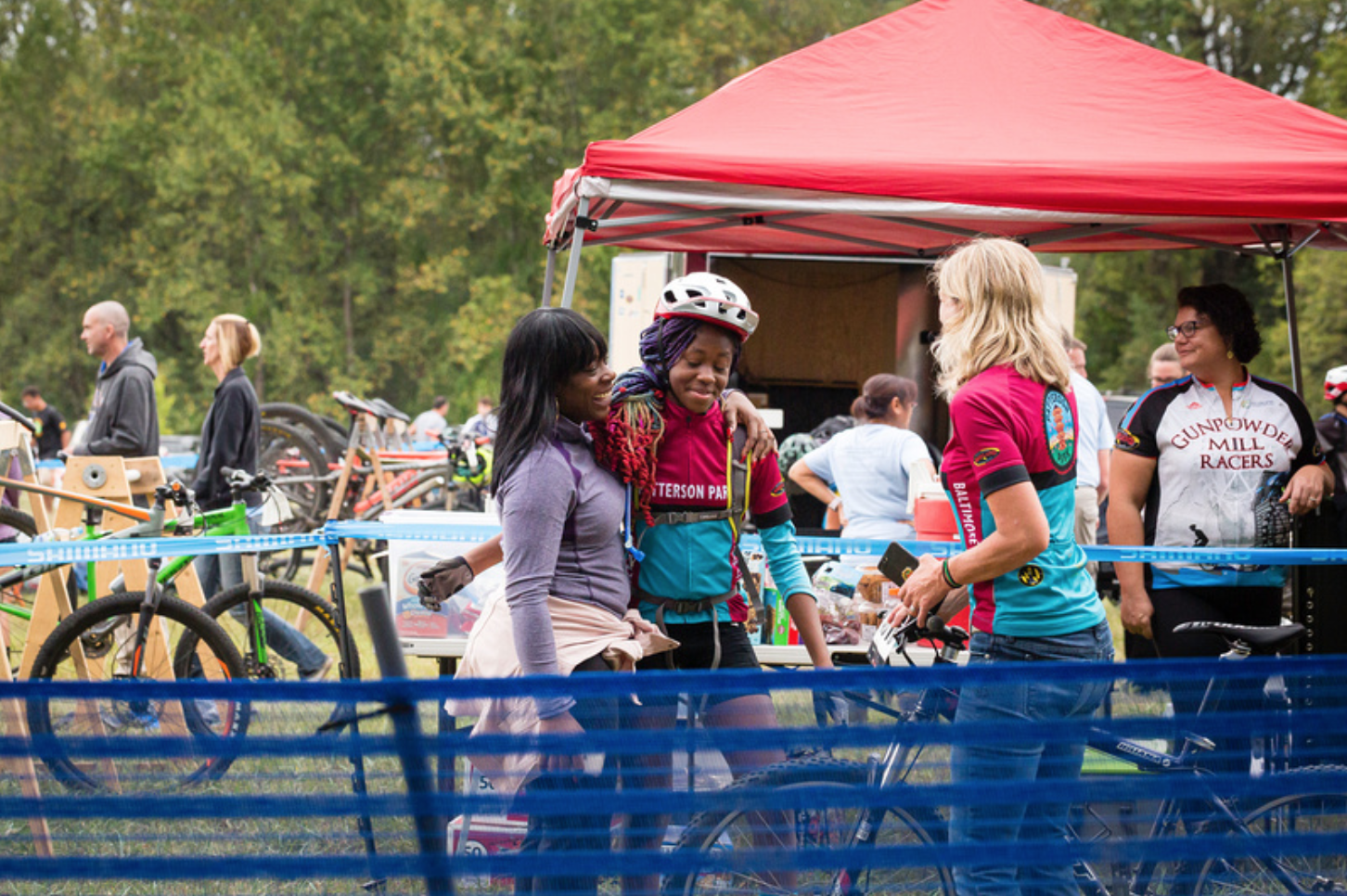 In celebration of Women's History Month - we're proud to highlight female student-athletes and coaches across NICA who are making a positive impact to our community. Coaches Cathy Witt and Becky Redett from the Maryland League formed an all-female team last year to introduce Baltimore City youth to the sport of mountain biking. Partnering with a local middle school, Commodore John Rodgers and the nearby Julie Community Center, the team practiced at Patterson Park, a historic 295 acre park located in the heart of Baltimore city. Thus, the Patterson Park Mountain Bike team was created!
Initially, the coaches faced some challenges securing bikes, safe bike storage and gear for their team. Working with the local community and with support from the Maryland League, Coaches Cathy and Becky secured bikes, gear and a permit to hold practice in the park for their new team. The team also held a design contest for their jerseys, with the winning design made by student-athlete Rowan Leary. Her awesome drawing of the iconic Patterson Park Pagoda adorned the team jerseys by Giro. Pearl Izumi generously donated shorts and other gear to round out their kits.
The team was composed of 5 female student-athletes, all who knew how to ride a bike, but none had ever been on a mountain bike or ridden off-road. Coaches Catherine and Becky worked with the girls to teach basic bike safety, fundamental mountain biking skills and trail etiquette. By the end of the season all 5 teammates had ridden on many local trails and a pump track and competed in the Maryland League Races, including participation in their GRiT Events.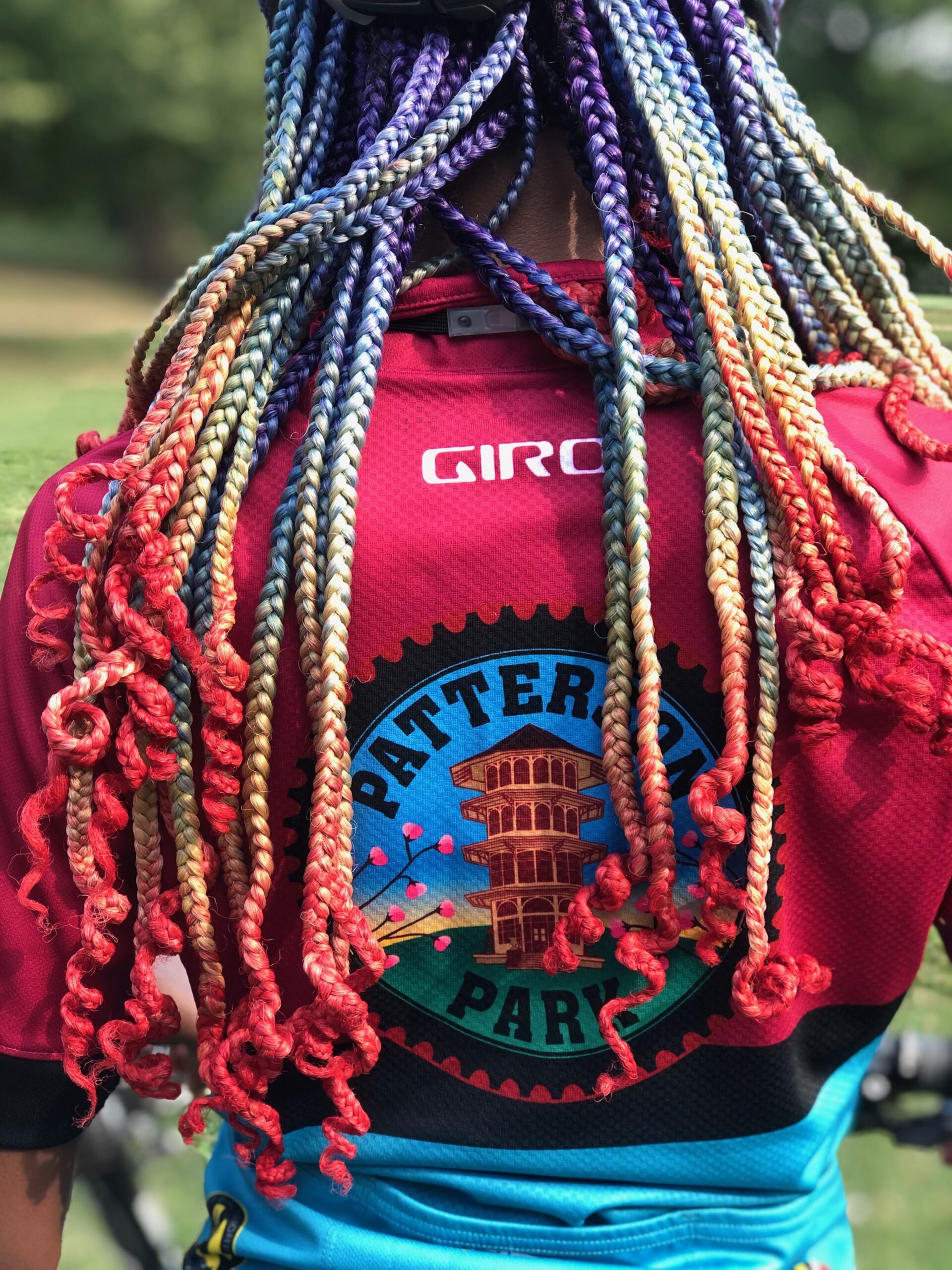 The team's custom Giro jerseys with the Patterson Park pagoda.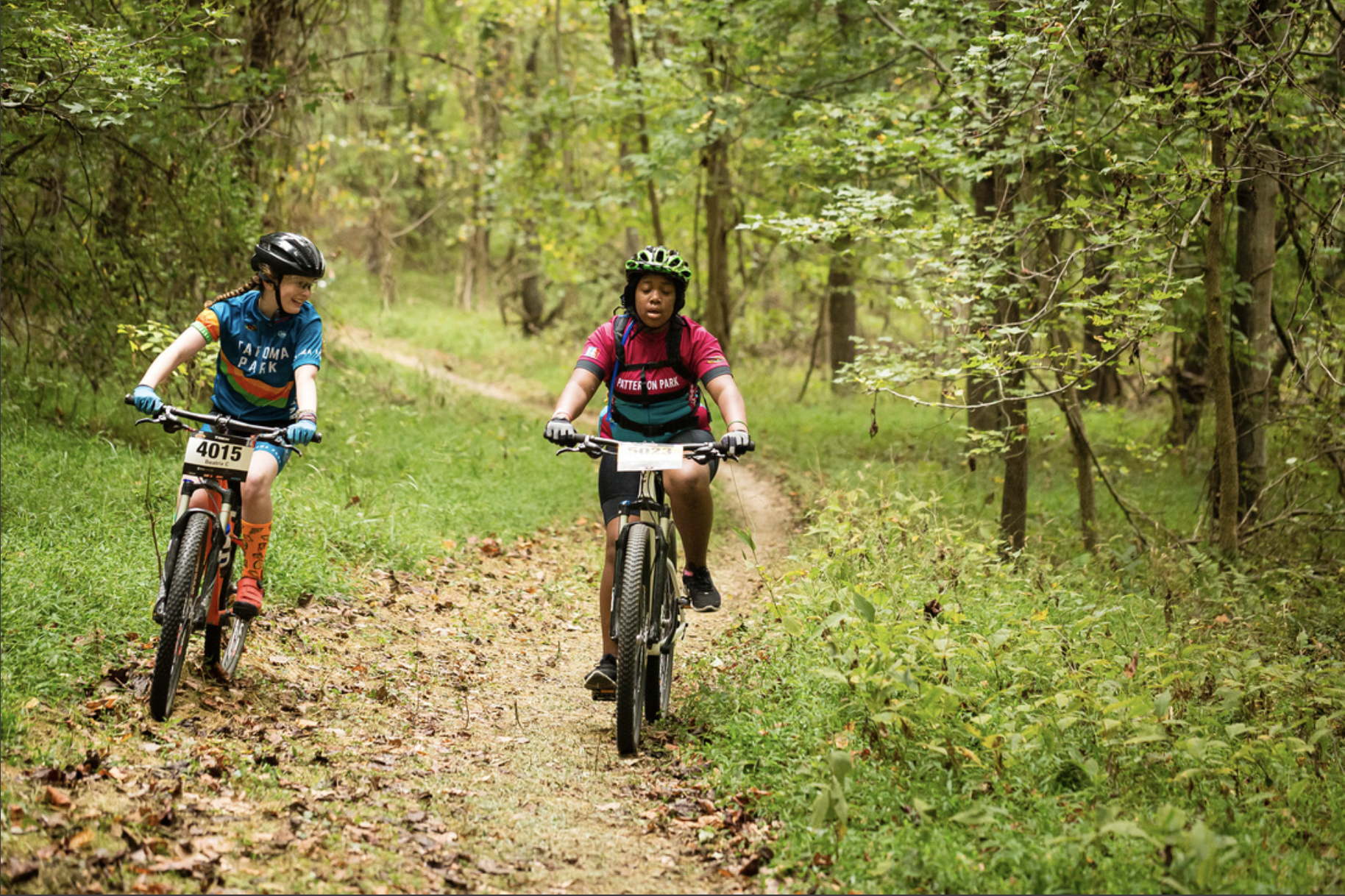 A rider from another team encourages a Patterson Park student-athlete during a Maryland League race.
On her overall experience with mountain biking, one Patterson Park student-athlete stated: " "When I joined the team, I felt very welcome. I was not interested in any other sports and I found that I particularly loved biking, especially on trail rides. The team and my coaches motivated me and helped me overcome my challenges.  Before I joined, I didn't like the woods too much. But when they took us out on the trails, I began to warm up to the woods. And soon I fell in love with the woods. And I loved it. And another thing is that mountain biking helped me get healthier and increase my endurance. Overall I just love my team, MICL, and GRiT!"
The student-athletes increased their fitness as evident by their ability to ride longer distances and improved hill climbing. Their technical ability grew as their coaches taught them to ride on varying terrain. Initially, they learned to ride on gravel, grass, asphalt, over curbs, tree roots, and down embankments in the park. These skills helped to prepare the team for various challenges on the trail such as stream crossings, rooty sections, tight turns and log crossings.
One of the girls mom's found that "E'niya became very confident and sure of herself when it came to biking. She earned the nickname "Hill Killer ''!  She's more responsible for keeping up with her biking gear. I loved to see her so happy to have this outlet where she met new friends and became more sociable.  She knows her gears, level peddling, and how to fix her chain. Coach Cathy and Coach Becky were amazing - whether any of the girls were shy, had social issues, anxiety, or needed to feel a sense of belonging, they were there to help.  I want to thank both of them for such love, care, and concern for E'niya. She can't wait to get back to riding. It's her favorite thing to do". 
Participating in NICA races and GRiT events was also key to the team's success. League races provided the student-athletes an opportunity to connect with other youth from across the state and be part of a larger community. The GRiT pre-rides and events provided a fun, non-competitive environment where Patterson Park student-athletes could connect and develop friendships with other student-athletes that they would later race against. When you're racing with friends and people you know - it's just more fun!
At the end of their season, with support from their coaches, the Patterson Park team gave back to their community by serving as bike ambassadors and leading a bike advocacy ride through Baltimore put on by Bikemore, which was a great success. The student-athletes also compiled a season-end list of experiences gained from their mountain biking that they could translate into life off the bike -- and these are experiences everyone can embrace! Congrats on a great season Patterson Park! We're glad to have you as a part of NICA!
Resilience: Getting over the disappointment of getting a flat tire, and running the bike through the finish line.
Failing and Trying again: Practicing getting over an obstacle again and again until successful.
Community: What it felt like being at the races....being part of something bigger.
Overcoming Fear: Being intimidated to race, but doing it anyway.
Grit: Digging deep to pedal up a hill.
Trust: When a teammate tells you that they won't leave you when you are struggling on a trail ride, and they wait for you patiently.
Being Present in Nature: Taking the time to take off your shoes and wade in a stream, examine a snake skin, or look at the trees.
Resolving Conflict: Being willing to let go of feeling frustrated with someone on the team and letting it go so it doesn't take away from the experience.
Pride: When you cross the finish line and people are cheering for you as well as when you are asked to lead a community bike ride.
Motivation: When people are cheering for you when you ride past.
Positive Example: Taking the time to smile and be friendly to strangers that you meet while riding your bike.
Focus: When you can just concentrate on the trail ahead and not on what happened earlier in the day.
Subscribe to NICA Stories
Did you enjoy this article? Sign up today and receive updates straight to your inbox.
We will never share or sell your personal information.