Around the same time NICA was being formed on the west coast, Craig Dodson formed the Richmond Cycling Corps on the east coast. Now under the direction of Matt Kuhn, we caught up with Matt to find out how the Richmond Cycling Corps is changing lives and empowering Richmond's urban youth through cycling.
---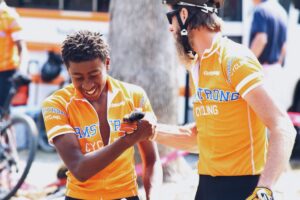 Craig Dodson at a cycling event with a Richmond Cycling Corps student-athlete. Photo: Richmond Cycling Corps
The program was started at the local Boys & Girls Club to teach youth from the local public housing neighborhoods about cycling and developed into something much bigger. Craig realized that to connect with the local youth would involve more than just cycling. The bikes brought the youth to the program and helped to hold them accountable, but it was more than just cycling and soon cycling turned into helping their student-athletes with everything from going to the dentist to getting their driver's license to navigating the court system. It was more than cycling. Matt and Craig were using the bicycle as a tool to change the lives of youth in one of Richmond's public housing neighborhoods.
---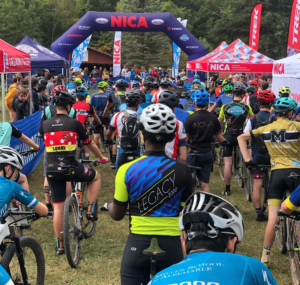 Richmond Cycling Corps / Legacy Academy student-athlete waiting to start the JV field with the Virginia League in fall 2019. Photo: Richmond Cycling Corps
In the beginning, their student-athletes mostly rode on the road on hybrids. The initial design of the Richmond Cycling Corps wasn't to race as bike racing can be an intimidating and challenging atmosphere to introduce youth into. But in 2014 that all changed when the Virginia NICA League launched and Craig connected with league director Peter Hufnagel and decided to have his student-athletes try mountain biking and race in the league.
"NICA races are an incredible atmosphere, everyone is happy and encouraging so they're a great atmosphere to bring the kids to." says Kuhn. He also found that NICA races provided an opportunity to connect his student-athletes with other teenagers from around the state and gain a new perspective on how other kids live.
---
Fast forward 5 years and Matt and Craig have now helped open a high school in Richmond, Legacy Academy. The school, under the direction of Ryan Hamlet, works with youth from public housing that need additional help and are struggling in the local public school. Cycling is a central part of Legacy Academy's curriculum as it teaches self-discipline.
DeMonte Cosby - or Monte as his teammates call him, is a student-athlete from Legacy Academy who will be attending Warren Wilson College starting in the Fall of 2020 to study Outdoor Leadership and ride on their cycling team. Monte always enjoyed cycling as a youth, but became more interested and passionate about it in 5th grade when his role-model and god-brother, Antonio, raced Varsity with Richmond Cycling Corps. Monte and Antonio talked about cycling every day and that gave Monte the drive to pursue cycling, set an example for other youth in his neighborhood and ultimately, just get more kids on bikes.
---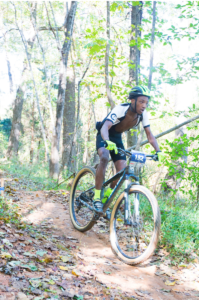 Monte riding strong at the Virginia League's Bedford race in 2018. Photo: Jack Looney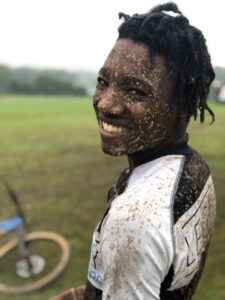 Monte's favorite thing about mountain biking? "I like hearing the chain move, the gears move and watching the dirt move. I like everything about racing, it's calming and my mind is free." he says. Monte was able to follow in Antonio's footsteps and race Varsity and found that NICA races were a great environment where he could challenge himself and meet new people. The races created a welcoming environment where all student-athletes were included and it was a fun experience to watch other kids participate in the same sport and cheer for them just as they cheered for the riders of Legacy Academy.
"Can't Stop. Won't Stop" is the motto for the Richmond Cycling Corps. With dedication, determination, and hard work, Matt, his team and the student-athletes of Legacy Academy are changing the lives of youth in Richmond through the bicycle and we're glad to have them as part of the NICA Community. For more information on Richmond Cycling Corps and Legacy Academy Cycling - please visit: https://www.richmondcyclingcorps.org/