As part of our 2019 Share the Ride Campaign - Western Spirit Cycling Adventures donated a trip to one lucky NICA Sustainer! NICA Sustainers are individuals who have committed to helping us get #morekidsonbikes and are impacting the future of cycling through continued annual giving.
CONGRATULATIONS and THANK YOU to Joel and Kristie Black from the Alabama League - NICA Sustainers who won our 2019 Grand Prize Trip!
We caught up with Joel and Kristie to learn about their connection to and involvement with NICA and why they are committed to getting #morekidsonbikes.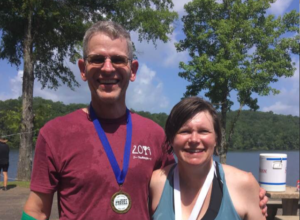 ---
Joel and Kristie became involved in NICA through their daughter Samantha (Sam) who became interested in mountain biking and raced with the Alabama League's Tuscaloosa Mountain Flyers team.
The Blacks started mountain biking in spring 2016 as a way to stay fit. After meeting and talking with local mountain bikers on the trails, they heard about NICA and Sam was interested in joining. With both Joel and Kristie enjoying mountain biking they decided to also volunteer for their local team.
2016-17 was their first season with the Mountain Flyers and it was a whirlwind! Not quite knowing what to expect, Joel, Kristie and Sam were warmly welcomed to the Tuscaloosa Mountain Flyer Family and the Alabama League. Traveling all across the state to different race venues, they learned a lot about mountain biking and were  incredibly grateful to everyone who took them under their wings and helped them have a wonderful experience with their first season in NICA.
Soon they were in to their second season, with Sam racing JV and this time it was Joel and Kristie who were welcoming new families to the team.
Their third season was Sam's last season as a racer. She made Varsity and was very excited. Joel and Kristie continued to ride with the team and provided race day breakfasts including fresh cinnamon rolls and biscuits! This season their team also welcomed new riders and coaches that had raced in other NICA Leagues -and it was exciting to see their perspectives on how other teams and leagues work.
For the 2019-20 season, although Sam has graduated, Kristie and Joel are continuing to be a part of the team and plan to cook Saturday dinner and Sunday breakfasts on race weekends for the Mountain Flyers. They sill both ride with the team and are excited to see what the new year brings for the Alabama League and the Tusaloosa Mountain Flyers!
They are also super stoked to be heading out with Western Spirit Cycling on an adventure of their own!