In North Carolina's Triangle region, Kevin Hicks is on a mission to get #morekidsonbikes. Kevin volunteers his time as Communications Director for the North Carolina Interscholastic Cycling League and also runs his own nonprofit, TriangleBikeWorks, which focuses on youth leadership. Their flagship program,  Spoke'n Revolutions Youth Cycling provides cycling adventures for youth of color that promote teamwork, strengthens communication, deepens interpersonal responsibility and compassion, and heightens sensitivity to the natural environment.
We caught up with Kevin to learn more about his program and the work he's doing to introduce more youth of color to the cycling community.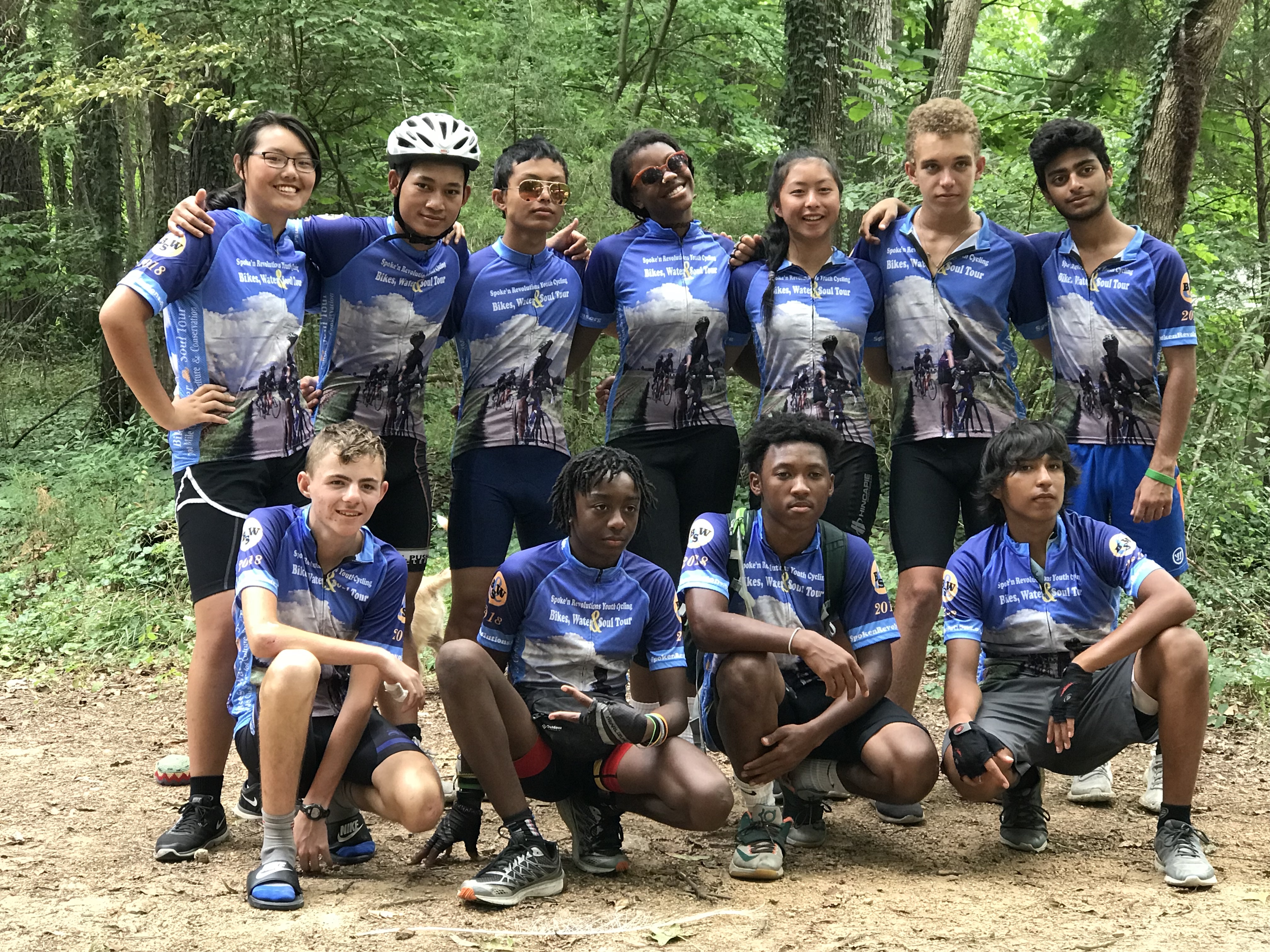 2018 Spoke 'n Revolutions summer student tour group. Photo: Kevin Hicks
What's your role with NCICL and how did you get involved?
I began as the Operations Manager running the infield because I enjoyed structured chaos. I moved to Communications Director because of the time commitment Operations needed. I was introduced to the idea of NICA at the first interest meeting with Mike Long (North Carolina's League Director).  I thought NCICL would be a great way to introduce youth of color to another form of cycling that I would also enjoy and could be involved in with them.
Outside of NCICL - you run Triangle BikeWorks - can you tell us a little bit about your program Spoke 'n Revolutions?
Triangle Bikeworks' flagship program, Spoke'n Revolutions, provides youth of color the opportunity to travel and have enrichment beyond the classroom. It challenges them mentally and physically in a way that allows them to expand and grow naturally. We tether the cycling experiences with the uncovering of seldom talked about American history, lessons in racial and environmental justice and the beauty of being outdoors.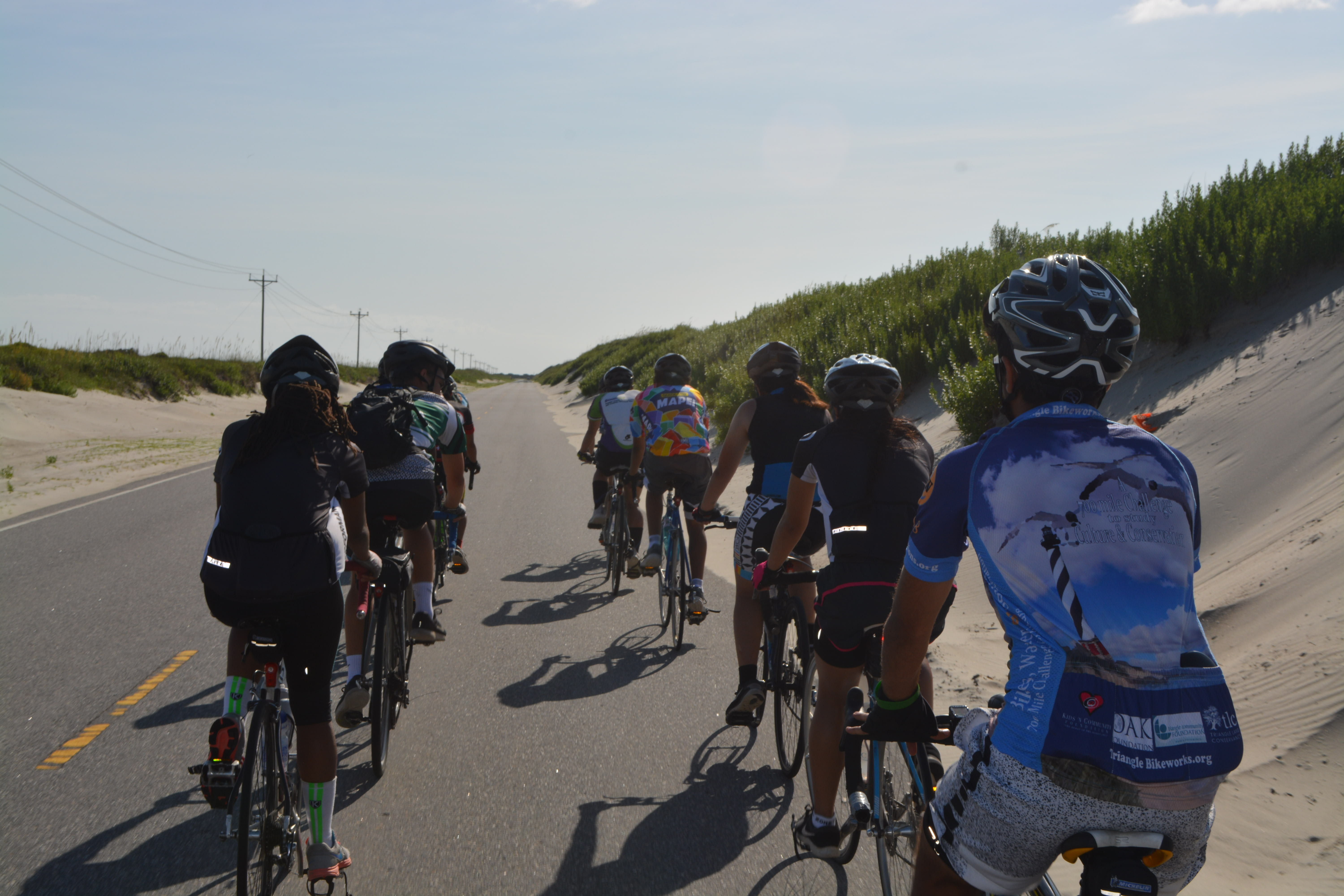 Student-athletes riding along the North Carolina coast. Photo: Kevin Hicks
Why did you decide to start Spoke 'n Revolutions?
It initially started as a way to prove that youth of color would be interested in something as different and challenging as cross country cycling. In school they weren't getting opportunities to show capabilities not tied to a traditional sport. After the first tour that initial idea was obliterated! The tours not only became a way to unlock the hidden potential of the youth, but to uncover hidden history along the routes while enjoying the outdoors in all its glory (rain, bugs, heat, etc.)
Have you seen growth in your programs that relates to NICA/NCICL? Do youth come to your program after participating in NICA and vice versa?
It would seem that road cycling and mountain biking exist on two separate planets. My theme of "Transforming Mind, Body and Spirit" is in the same universe of "Strong Mind, Strong Body, Strong Character" but, because we work primarily with youth of color in the Triangle area of North Carolina, youth from the league have not jumped to light speed to check us out. But I have sent student athletes to the league because of the hyper focus that mountain biking requires. I used athletics to get them there but I'm really paying attention to what they'll get out of it mentally.
How do you see cycling as a tool for youth development?
I see cycling as the perfect tool for youth development! Maybe I'm biased but it offers a lot of the skills you need in life. Spacial Awareness-being aware of your environment is one major skill. Whether a tree or a car, you need to be aware it's there. Mountain biking requires focus, determination, goal setting, team building (getting along with others), strength and endurance. Road cycling allows for self-reflection, camaraderie, goal setting, progression awareness, strength and endurance - better known as "Bike-Therapy". If done right in a healthy, somewhat competitive way (for the challenges) this is all a growing child needs. What they teach in kindergarten, as they say.
Cycling is predominantly a white male sport - how do you attract youth of color to your programs?
You ask them. In addition to asking them you have to be willing to go where they are in order for them to participate. 20% of our participants aren't two car families.
What impact/change do you see on youth after participating in your program?
A lot more confident in what they're capable of. This translates to all sorts of activities in their lives. Making friends is easier, keeping friends is even easier. They enjoy cycling where before it wasn't a consideration. They can stand the heat! Our tours are in the summer and they're outside 90% of the time for two weeks. They become better communicators and documenters of their experiences.