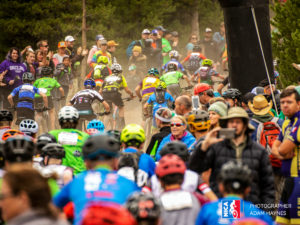 This initially appeared in REI's employee communications on 11/22/2019.
US Bank has donated $20,000 on behalf of the REI Mastercard program to The National Interscholastic Cycling Association, a national nonprofit that develops interscholastic mountain biking programs for middle and high school student-athletes. 
The National Interscholastic Cycling Association (NICA) is an REI grant partner and supports 31 youth cycling leagues across the country, providing opportunities for young cyclists to learn skills, participate in both competitive and non-competitive mountain biking events and train, compete and participate in local cycling-related advocacy and stewardship programs. 
"Through our Mastercard program partnership with US Bank, we can continue to strengthen our support of NICA, an organization that stewards youth who are interested in cycling and helps ensure the outdoors is for all," said Pardis Ghorbani, VP Customer & Brand Shared Services.
"NICA is extremely grateful that through our long-standing partnership with REI we are able to now partner with US Bank to further support our mission of building strong mind, body, character and community through interscholastic cycling," said Steve Matous, NICA President.
Since 2015, US Bank has donated $100,000 to REI grant partners as part of our partnership through the REI Mastercard program. 
Separately, REI donates 10 cents per REI Co-op Mastercard purchase, up to $1 million, to projects that help protect our public lands, restore trails, habitats, and more. Since 2017, the co-op has donated nearly $3.5 million on behalf of our cardmembers to support outdoor stewardship projects.