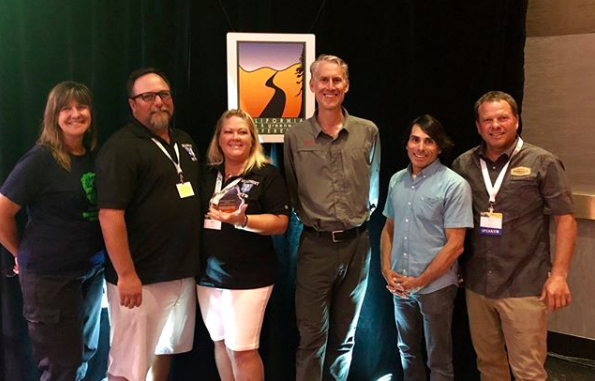 When access to Bogart Park was threatened by budget and battling users, the Beaumont High School Mountain Bike Team took up the challenge and worked with other users to keep the park open. The team advocated and volunteered countless hours. Thanks to their combined efforts, the park is under new management, maintained, and busy and the Beaumont High School Mountain Bike Team is a leader in NICA's Teen Trail Corps program.
Bogart Park is a 300-acre regional park in Cherry Valley, CA. The nature-oriented park has trails, camping and a pond and is mainly used by mountain bikers, equestrians and hikers. In 2015 the park faced budget issues due limited revenue and conflict between user groups and the county started exploring options about what to do with the park, most of which leaned toward closing or greatly reducing park access for everyone. The county challenged the park's user groups to volunteer if they wanted the park to remain open.
Enter Beaumont High School Mountain Bike Team! The team coordinated with other user groups and stepped up to the plate to help lead the charge to keep Bogart Park open. They attended public hearings where student-athletes addressed the boards, wrote letters and attended other meetings.
The county parks responded, and allowed the team to use the park at no charge if they committed to a significant number of volunteer hours. The team stepped up again, and not only worked on Bogart Park's trails, but they painted buildings, picked up trash, swept roads and supported non-cycling events at other parks. To bring the park's user groups together, the team hosted a "Trail Etiquette Day." The team was not only supporting the park, but the larger community.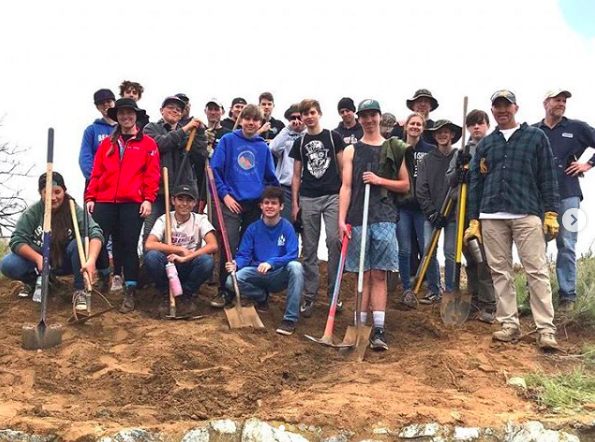 Beaumont High School Student-Athletes working at Bogart Park
Now, almost 4 years later there are many miles of sustainable multi-use trails, an annual mountain biking event hosting over 100 riders and plans to host a trail 5K and a horseback poker run. Beaumont Mountain Bike Team's involvement has also enabled them to be leaders in NICA's new Teen Trail Corps efforts to encourage NICA student-athletes to engage in trail stewardship and advocacy.
In the spring of 2018, 18 student-athletes from Beaumont High School Mountain Bike Team were awarded Teen Trail Corps Captain awards for their excellence in trail advocacy. To become a Teen Trail Corps Captain student-athletes must earn badges where they "Speak, Serve, Ride and Respect" in activities related to trail advocacy and stewardship.
Bogart Park is now thriving and in December 2018, a new management agency took over the park and is working with local user groups to ensure a more stable and responsive future for the park.