The annual NICA Awards recognize student athletes, coaches, volunteers, and partners who bring NICA's core values to life. They celebrate community, partnership, effort, and impact. These awards shine a light on individuals whose leadership and dedication to the sport of mountain biking have had meaningful influence - whether that impact has been felt within their team, league, or the entire NICA organization.
---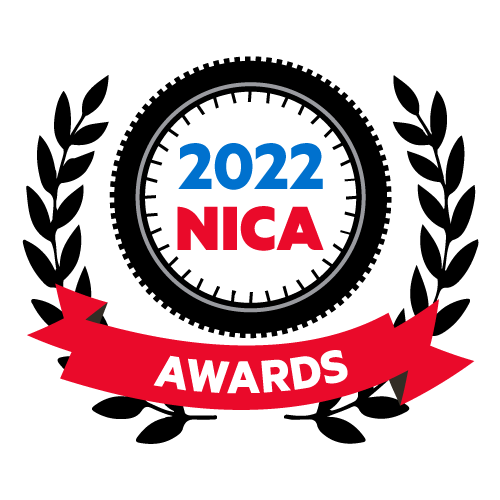 ---
Join us in celebrating those within our outstanding community who are getting #MoreKidsOnBikes by building, supporting, and improving NICA's interscholastic cycling movement.
Awards are given out across these six categories:
Trek Extraordinary Character Award
The Extraordinary Character Award recognizes student athletes who exemplify the NICA core values through their contributions to their team and community. These individuals have shown the ability to commit to an endeavor, persevere through challenge, excel in the sport of mountain biking as an individual and teammate, and serve as a role model for other student athletes.
NICA Distinguished Alumni Award
The Distinguished Alumni Award recognizes a former student-athlete who carries the spirit of interscholastic cycling beyond their high school years. This alumni is an incredible ambassador for getting #MoreKidsOnBikes in any or all of the ways NICA celebrates mountain biking.
NICA Legacy Award:
The Legacy Award honors an individual for their tremendous philanthropic support of NICA and NICA leagues. Recipients of this award understand the importance of empowering youth through sport and have put their energies behind efforts that exemplify the traits that help individuals and organizations achieve success.This individual is building a legacy by supporting NICA's efforts over time and creating opportunities for the future.
QBP Community Impact Award
The QBP Community Impact Award honors an individual whose efforts positively impacted youth, the community, and the organization. This individual is an outstanding representative of the organization internally and externally, dedicating exceptional time, expertise and enthusiasm to make a difference in the organization.
SRAM Coach of the Year Award
The Coach of the Year Award acknowledges a coach whose qualities as a leader and motivator embody NICA's mission to provide student athletes with the coaching and camaraderie to help them achieve both competitive and non-competitive goals in a safe and enjoyable manner.
Student-Athlete Leadership Award
The Student-Athlete Leadership Award honors student-athletes who have demonstrated outstanding leadership, sportsmanship, academic performance, and volunteerism in their team, school, and community.
Congratulations to all of our 2022 Nominees!
---
Trek Extraordinary Character Award
Quentin Trull, Idaho
Oliver Taylor, Maryland
Isaac Magers, Missouri
William McCabe, Missouri
Rachael Everett, New Jersey
Avery Phillips, Ohio
Gabby Havron, Tennessee
Abigail Lockingen, Utah
Dax Harper, Utah
Porter Barrett, Utah
Tucker Harper, Utah
William Ware, Virginia
Tracey Valach, West Virginia
Andrew Aslesen, Wisconsin

NICA Distinguished Alumni Award
Olivia Nicholls, Arizona
Jesse Summers, Idaho
Ian Schwing, Maryland
Alec Zierer, New York
Aphay Patel, South Carolina
Kelly Henderson, Tennessee
NICA Legacy Award
Jerry Lathrop, Idaho
Tim Gutwein, Missouri
David Kahl, New Jersey
Nic Sims, NICA National
Romain Taupier, Texas
Erika Sheppard, Utah
QBP Community Impact Award
Adam Rogers, Arkansas
Dave Weaver, Arkansas
Tim Keith, Arkansas
Maria Dziembowska, Delaware
Jess Mefford, Florida
Steve Beckett, Kentucky
Kerri Boyd, Maryland
Korey Hopkins, Maryland
Amy Luttrell, Missouri
Annie Schwartz, Missouri
Sara Pointer, Missouri
Jennifer Greer, Nebraska
Mary Beth Van Wart, New Jersey
Duane Coughlin, NorCal
Hayley Yoslov, NorCal
Julianna Brinson, North Carolina
Aaron Puttcamp, Pennsylvania
Doug Rohde, Pennsylvania
Hannah Puttcamp, Pennsylvania
Heather Weirich, Pennsylvania
Matt Joiner, Tennessee
Darren Poore, Texas
Suzanne Johnson, Texas
Amber Ahlberg, Utah
Angela Dereix, Virginia
Randy Ward, Virginia
Chad Baldwin, West Virginia
Andrew Aslesen, Wisconsin
Josh Shively, Wisconsin
Michael Seiler, Wisconsin
Dr. Stuart Willick, Dr. Daniel Cushman and Dr. Masaru Teramoto, Other
SRAM Coach of the Year Award
Dave Weaver, Arkansas
Josh Foster, Arkansas
Stephen LaRue, Florida
Anthony K Perkins aka Coach Tony, Idaho
Jennifer Hester, Kentucky
Cathy Buccheri, Maryland
Nicki Kelly, Maryland
Brett Westerbeck, Missouri
Eric Frazier, Missouri
Kurt Bedow, Missouri
Mac Vorce, Missouri
Mike Burden, Missouri
Sara Pointer, Missouri
Emily Plant, Montana
Heidi Makoutz, Montana
Selden Daume, Montana
Abbey O'Brien, Nebraska
Jesse Poore, Nebraska
Joe Collins, Nebraska
Mike Moskowitz, New Jersey
Adam Nuyen, NorCal
Alyssa Heiland, Pennsylvania
Brandt Wilson, Pennsylvania
Heather Weirich, Pennsylvania
Kevin McElwain, Pennsylvania
Kurt Morris, Pennsylvania
Michelle (Missy) Rohde, Pennsylvania
Paul McManus, Pennsylvania
Ben Cartwright, South Carolina
Terry Boxx, South Carolina
Annie Tutoki, Texas
Jason Schaller & Jeff Vezina, Texas
Adam Clark, Utah
Chris Best, Utah
Jason Munns, Utah
Shane Christensen, Utah
Shawn Rositter, Utah
Aaron Hairston, Virginia
Jennifer Raab, Virginia
Mikey Valach, West Virginia
Doug Denson, Wisconsin
Jon Kangas, Wisconsin

Student-Athlete Leadership Award
Quentin Trull, Idaho
Brody Melton, Missouri
Eli Kakouris, Missouri
Isaac Magers, Missouri
Max McDade, Missouri
Oaklee Campaou, Nevada North
Robert Tian, NorCal
Luke Isaac, Ohio
Joshua Dicks, Oregon
Hannah Puttcamp, Pennsylvania
Molly Kaplan, Pennsylvania
Avery Phillips, South Carolina
Amber Hong, Tennessee
Chloe Hong, Tennessee
Drew Bosland, Texas
John Fojtek, Utah
Porter Barrett, Utah
Zara Howard, Virginia
Anja Lanser, Wisconsin

Past NICA Awards Recipients
---