NICA's Asset Library is a collection of downloadable brochures, images, videos, and logo files for public use. Any usage of the content below must conform with guidelines set forth in the NICA Brand Guide and our Intellectual Property Guidelines.
All images, word marks, logos, brochures, photos, and videos in this library are trademarked or otherwise protected, cannot be used to sell goods or used in any manner that is not in express support of NICA's work, without the expressed written permission of the National Interscholastic Cycling Association.

2019 Highlights
NICA's Annual Highlights serves as an abridged annual report and provides a snapshot of our accomplishments and financials from the previous year.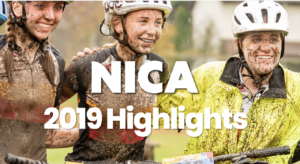 Click on image or here to view

Photography
NICA is grateful to the dedicated photographers across all our leagues who volunteer their time to capture our programs, community, and the middle and high school mountain biking movement. When using these photos, please include appropriate photographer credit.
Click on a photo or the red button below to download a zip file of photos.

NICA Logos
The NICA logo is made up of two main elements, a brandmark and a wordmark. The brandmark and wordmark can appear independently or they can be set together in a lockup. The logo can be used with or without the text "National Interscholastic Cycling Association."

Videos
NICA is working to increase our video content! Currently we use the NICA YouTube page to promote league features, training videos and webinars. We'd be more than happy to feature videos from leagues and teams as well!

Social Media
Connect with us on social media and show your support for #morekidsonbikes with these images already sized for your next post!
Facebook timeline photos
Click on a photo to download all six timeline photos.